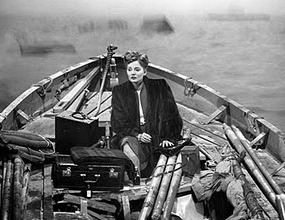 One setting. Eight people. Lots and lots of aggro. Hitchcock's sloshy wartime thriller anticipates Big Brother's Darwinian bear-pit by 50 years and ups the ante with eviction-by-drowning. Memo to Channel Four?
Like Rope (one apartment, no cuts) and Rear Window (one apartment, no legs), it's one of the fatman's most memorable experiments in phonebox cinema: the survivors of a sunk luxury-liner trapped on row-boat in the Atlantic with the German U-Boat Captain (Walter Slezak) who torpedoed them.
Lifeboat sank at the box-office and the script (snubbed by Hemmingway, started by John Steinbeck, finished by Ben Hecht) foghorns rudely with in-yer-face propaganda. But there's enough novelty and nasty to keep the drama afloat as the cast – bossed by diva Tallulah Bankhead's spoilt fashion-writer – bitch and bait each other with deadly consequences. During shooting, Bankhead caught pneumonia in the cold water. Hitchcock gave her a puppy – named Hitchcock.
More great behind-the-scenes anecdotes from the film's troubled production surface on critic Drew Caspar's scholarly commentary and this two-disc Special Edition's 20-min doc The Making of Lifeboat, which also pulls in contributions from Hitch's daughter Patricia. Best of all is the vintage 49-minute interview A Talk With Hitchcock, which sees the director discussing his films, his shooting style and his drives with malicious gentility. Look out for Hitch's favourite cameo: a newspaper ad for a fictional diet aid called 'Reduco', featuring before-and-after snaps of the bulbous director.
RATING: [rating stars="3″]
DISC: [rating stars="3″]
Publication: Total Film