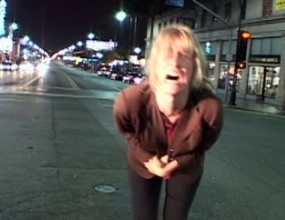 Conventional star-ratings don't apply to INLAND EMPIRE. Yes, David Lynch insists it's capitalised. No, he's not saying why. Shot without a finished script over two-and-a-half years, Lynch's first feature in half a decade is his most ambitious brain-twister ever. Teetering on the brink of his subconscious – as far inland as we've ever gone – this epic mystery is a branch of the then-61-year-old maverick's DNA: strange, familiar and utterly unique.
Continually multi-referencing itself and Lynch's entire career, it pivots on the kind of naked, fearless performance he has a genius for extracting – from Isabella Rossellini and John Hurt, to Richard Farnsworth and Naomi Watts. Laura Dern is in almost every scene, her face contorting like a melting waxwork in Lynch's trembling close-ups. No wonder the director recently parked himself (and a live cow) at an LA intersection to tout her for Oscar: like all great actors, Dern simply disappears into her character.
Dern plays faded actress Nikki Grace. Nikki plays Sue, opposite bad-boy Justin Theroux, in a film about two people embarking on a dangerous affair. The script, based on a Polish gypsy curse, is in fact a remake of a film that was never completed. The original stars were brutally murdered because "they discovered something inside the story". At which point, the 'plot' and Dern's terrified character splinter forever.
Is she on camera or off? Is she speaking? Or reading lines from the script? Is she Nikki playing Sue? Or is she Sue? Then the sinister Poles turn up, "looking for a way in". Screwdriver stabbings. A young woman staring sadly into a TV screen. Hookers singing 'The Loco-Motion'. Humanoid rabbits (voiced by Mulholland Drive stars Watts and Laura Harring) doing the ironing on a TV sitcom set.
Grotesque, funny, intense scenes add up with thrilling intent – only to shatter again minutes later. Rabbit holes inside rabbit holes, movies within movies, identities blurring throughout. As Lynch punctures layer after layer of realities, Dern/Nikki/Sue becomes both audience and protagonist. "I don't know what happened first," she whispers, speaking the audience's mind as Lynch's leads always do. "And it's kind of laid a mind-fuck on me." Well said. It's Lynch reminding us that time and space are cinema's most untrustworthy variables – portals between the real and imaginary, constantly flickering open and closed, taking us from the wintery streets of Lodz to LA's Walk of Fame.
Shot with a high-street digital camera, Lynch's usual plush, beautiful moviescape has fuzzed into a murky, threatening DV world. By stepping outside the Hollywood dream-factory (INLAND EMPIRE struggled to pick up distribution in the US), the director unlocks a cinematic haunted house full of dark corners and secrets glimpsed just beneath the surface.
Even after three hours, the symbolic echoes and narrative non-sequiturs are impossible and irresistible. Do all the pieces fit? Well, yes, no and that's not the point. Lynch's obsessions simultaneously demand and defy interpretation. A captivating, baffling nightmare-puzzle. Whatever the hell those rabbits mean.
Publication: Total Film
RATING: [rating stars = "4"]