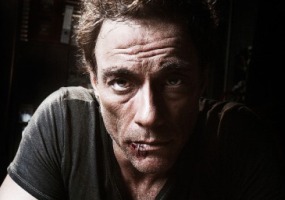 "Maybe this is going to be one of your best interviews," says Jean-Claude Van Damme, on a shaky phone line from Hong Kong. Well, why not? There's a hell of a lot to talk about. His rivalry with ponytailed face-smasher Steven Segal. The time he blinded a stuntman by sticking a thumb in his eye. The time he got an erection on TV. And, mostly, his comeback from career-death in one of the coolest indie movies of 2008. Part comedy, part biopic, part heist movie, JCVD
hands Van Damme the most complex and fascinating role of his career: himself. "When the script came in, it didn't have anything to do with JCVD," explains Van Damme, oddly referring to himself by his own initials in the third person. The original screenplay had Van Damme playing himself for laughs, but when French filmmaker Mabrouk El Mechri rewrote the script it became something else altogether. "The guy changes the script to this idea of putting myself against the wall and I said, 'If I have a gun to my head, why not tell them something I want to tell them?' The film studio, without realising, spent millions of Euros to do my own therapy on the screen." Trapping Van Damme in a random post-office robbery in his native Belgium, El Mechri gave the actor little dialogue and lots of ad-lib. Van Damme duly stepped up with the performance of his life: funny, poignant, knowing and completely unexpected. In JCVD's most remarkable scene, he talks straight-to-camera in an unbroken seven-minute monologue, an incredibly brave, moving confessional about a lifetime of mistakes he's made: the pressures of fame, the women, the drugs… "When I saw myself, I felt completely naked," he remembers. "I was free to talk to the darkness of the studio. Nobody was there to make fun of me, so I opened my heart to that camera." Turns out, the Muscles From Brussels still has plenty to get off his chest. "That scene is really nothing," continues Van Damme, eagerly. "What I'm going to do later…" He pauses. "I don't know if people are going to make fun of me or not. But the truth… is the truth. I'm 48 years old. And if will lie you, it will be sad. Normal movie stars and actors talk about their next project and how good they are and this and that. I pass all that bullshit." Hang on. Isn't that what we're here to talk about? His movies. His rise to stardom. His freefall into straight-to-DVD purgatory. His penchant for groin punches. Being cast as the alien in Predator
, only to be fired when he complained too much.
"What I'm telling you, it's a fact of life," says Van Damme, seriously. "It's truthful, it's real, because I've got no advantage to tell to a magazine. They're gonna say, 'This guy's whacko.'" Yes, but… But no. It's too late. Van Damme has already begun an impassioned autobiog confession to rival the one in JCVD.
"My parents, they were very busy and they put me into a farm, near Belgium… And one night I just wake up, like an epiphany… And I want to go to that village. Because in that village there was a church. And the moon was very strong… I remember, those huge snowflakes. I remember it was a choir… They were singing 'Ave Maria'… And I said, 'God, I would like all the animals to be free and not to be hunted.'  Because I saw some TV show where they hunt animals and shit like that…"
Jean-Claude. What about the movies? Your big-break in Bloodsport? Playing identical twins in Double Impact? Starring with Kylie in Street Fighter
? "Well, let me finish my story!" exclaims Van Damme. "Because if you want to hear something special, it's the time to do so. If you want to ask me a question like you would be asking to George Clooney or all those guys… I will tell you. Then we have a normal discussion so that's better for you. And then you'd be happy." Great. Well, JCVD is obviously fascinating because… "When you start an engine, you need a battery," he cuts in, impatiently. "If have no battery, you will have no life. Because your car will never move forward. So if you want to ask me questions about movies, great. I can kick, I jump, I can cry, I can smile, I can be a big liar. This is easy. I did those movies and I finally realised that – today – my career didn't have anything to do with becoming famous, JCVD or a star." So what is it all about? "I've got a plan," reveals Van Damme, calmer. "And the plan only came out now. I finally realised that every movie I made to become famous, it's nothing. In a year from now, I'm gonna do not that monologue of seven minutes. But a THREE-HOUR monologue. Explaining to people the fact of what it is. About life. What I'm going to do is make a speech about something I ask for and I receive it in a big fucking way. It was… Oh, I'm sorry. 'Ello?'" Van Damme breaks off. There's a call on the other line. He speaks at length in French. "'…Ciao.' Sorry, it has to do with France. It was a commercial. For a bed. Ha! Bed commercial! Can you believe that? Yeah, you know, I am jumping on the bed, left and right. Well, let's talk some more!" Where were we? That's right. Won't people be a little put off by a three-hour life-lecture from a man who advertises beds? "Yeah, people are gonna see that three hours and say, 'He's crazy. I hate this guy,'" says Van Damme. "But it's the story of a young man from Belgium, who was skinny like a toothpick and who left to chase a dream. I've been from sleeping in a box and stealing food to the best penthouse and private jet. All that was leading to this film I'm going to do, to finally say something." That young man was Jean-Claude Van Varenberg, a skinny, bespectacled kid living in a Belgian town. He wasn't Lawrence Of Arabia. He wasn't Tintin. He wasn't like any of his heroes. So at the age of 11, he started learning martial-arts. He knocked out his first opponent in 46 seconds. His next three fights lasted 18 seconds, 39 seconds and 12 seconds. No one stood a chance. He became European Kickboxing Champion and retired with a 18-1 (18 knockouts) record. By now, he'd lifted also the Mr Belgium bodybuilding title. Van Varenberg studied five years of ballet ("If you can survive a ballet workout, you can survive a workout in any other sport") then moved to LA to make it in the movies. "They call me the 'Muscles From Brussels,'" he says, slightly apologetically. "But I don't blame them. When I came to the US, I didn't speak English. I came with the baggage as the karate guy." The young Belgian's break came when caught the eye of hairy B-movie action icon Chuck Norris. "I sent him this unbelievable picture, of me jumping above a car, in the splits position, the car is driving towards me, I am jumping in the air," says Van Damme. "And with a briefcase in my hand to look like a businessman! Chuck was very impressed. He invited me to his house. He gave me a job as an extra in one of his movies, Missing In Action
. And then I left Chuck to go my own way and I was back on the street. But I knew I would make it. That's what I said to my first producer Menahem Golan: 'Look. I'm gonna be famous.'"
Actually, Van Damme didn't say anything. Instead, he confronted Golan outside a restaurant and performed a breathtaking "mawashi" roundhouse kick inches from his face. It got him an invite to Golan's office the next morning and his breakout movie. Re-edited by Van Damme himself after sitting on the shelf for two years, Bloodsport became a worldwide box-office success in 1988. After years working and training day and night, Van Damme's star started to burn: John Woo cast him as the lead in his Hollywood debut Hard Target
; he scored his first $1 million payday opposite fellow Euro-titan Dolph Lundgren in Universal Soldier
; then sci-fi thriller Timecop
became his first $100 million box-office hit. But Van Damme's personal life was disintegrating. Divorce, marriage, divorce… Then his movies started to tank. The Quest
(which he also directed), Maximum Risk
and Double Team
made less than $50 million combined. What happened? "When those roles came in, I was unable to let anything go," admits Van Damme. "My wife was at home and I was travelling. Movie, promotion, movie, promotion… I've been trained so hard – like an animal – by my teacher. And I mean it. It's a real warrior's life, I guess. But I've got three children. I didn't see my first kid growing. So I talk to my coach and I say, 'I've got some problems.' And he said, 'Jean-Claude, you've got to understand something. I told you about the Samurai. I tell you to jump, you jump. You do push-ups on broken bottles, so if you're exhausted your face is cut in pieces.'
"How comes Van Damme was able to take drugs?" he says abruptly. "I was going to discotheque, drinking litres of water. Never touch a cigarette in my life. Training like a mule. No one – not one of friends, not even my parents – would ever think this guy could take drugs. So a woman gave it to me who was very close to me, and I tried it, and I felt something strange when I tried it. I felt like something was pushing me to try it."
But after the cocaine, the marital meltdowns and 10 years in straight-to-video purgatory, JCVD has bounced Van Damme unexpectedly back into the spotlight. "Since I did that movie, I don't know what's going on! All the big movies are coming to me. Big offers." What are we talking here? X-Men 4? "No, like, we were gonna do Bloodsport 2," enthuses Van Damme. "But I wanted to do it now in a very mature way, where the guy from Bloodsport is a complete bum, maybe abusing his son. They told me, 'No, no, no! You cannot be a guy on drugs doing karate and shit like that.' Then Stallone gave me a part in his next movie."
The Expendables? Van Damme with Sly, Statham and Rourke? This is big news. "But I ask him about the subject, about the story," continues Van Damme. "He said, 'You gonna make a lot of money.' Van Damme, it turns out, can pull off a perfect Stallone impression. "I don't want to hear that," he continues, back in his French accent. "I want to hear what was my character. He was unable to say! 'You know, uh, well, the fighting will be good.' Sly, what is my character? So I didn't do the movie. I could have called him back and said, 'You know Sly, I have an idea for a film for you to play, like maybe a priest, you go to South Central with a book and try to get the kids out of drugs with your faith.' Sly: 'It's very insulting.' No, I really believe in him. I said, 'Sly, when I was 16, I wanted to be Rocky. Come on, stop it. Don't be childish. And I hung up on him. That's why I have a hard time to succeed in Hollywood. I don't go to parties and I am a control freak."
He pauses for breath. For the first time in a long time. "And I talking too much to you? Because you started something and you did it well. Either you did it on purpose or it's just meant to be. I don't know how many people are going to read this but I believe the interview we are doing, it's going to go far."
Jean-Claude Van Damme is standing on his apartment balcony. He's 75 floors up. "Can you believe that? The cars below me look like crumbs," he muses. "And I brought some parachutes just in case. And every parachute has a big net, for my dogs. I don't jump without them. And I bought eight of them. Because if I have some guests, it can be a fight for life! Correct?" Joking? "I'm not joking! Serious. I've got to finish that film, right?" Damn right.
Publication: Total Film