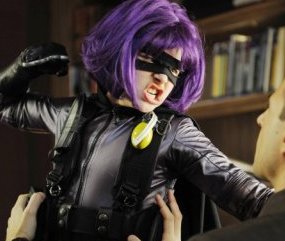 As he touched the cold trigger of his handgun, Nicolas Cage paused to contemplate what he was about to do. Stood smiling in the middle of his gun sights was a tiny, blonde, button-cute 12-year-old girl. His daughter, in fact. Suddenly, eating a live cockroach didn't seem so bad. 'We really have to make it clear there's a bullet-proof vest underneath there,' he thought nervously to himself, as he smiled reassuringly back at her. 'This is a weird day… A very weird day.' He squeezed the trigger.
Why had Nicolas Cage just shot a 12-year-old girl? Why had that same little girl been massacring drug-dealers with a sword-stick? Why was McLovin dressed as a superhero? Why had director Matthew Vaughn been shunned by every studio in Hollywood? Why wasn't he directing $200 million comic-book blockbuster Thor? Someone had to take the blame. That someone was a Scottish comic-book writer with a very sick sense of humour. It was a week or so before the premiere of Vaughn's fantasy Stardust
that he got a phone call from Mark Millar.
While his killer-thriller comic-book Wanted was being filmed by Angelina Jolie and James McAvoy, the 38-year-old Marvel writer Millar had asked mutual friend Jane Goldman (screenwriter for Vaughn, wife of Millar's friend Jonathan Ross) for an introduction to the Layer Cake
and Stardust director, having learned he was about to shoot Thor. "But Thor wasn't happening," recalls Vaughn. "Reading between the lines, I think they weren't ready to greenlight until Iron Man
and The Incredible Hulk
had come out, because they had so much money tied up in it. I wasn't ready to just keep hanging around and so that was why I thought, 'I'll make another movie.'" During a five-minute phone call that turned into a four-hour conversation, Millar offer him two of them. Vaughn liked American Jesus
("Hary Potter meets the Book Of Revelation"). But he loved Kick-Ass
. It was about vigilante superhero kids with no superpowers. It was violent. It was funny. It so wrong it had to be right. "I wanted to do something as funny as Superbad
and as exciting as Die Hard
," says Millar. "It was all the things had been going through my head for years when I'd been writing comics.
Problem: Millar was still thinking about it – he'd only written two issues. Vaughn didn't care. Buying the rights to the big-screen adap, he immediately began drafting an outline for screenwriter Goldman even as Millar was writing the comic-book. "I kept writing and filing with him and, because he had my plot, he eventually overtook me!" says Millar. "Which was so weird…" Two weeks later, Vaughn passed a detailed outline to Goldman. Two months after that, she handed him the script. Vaughn and Millar were ecstatic. "We just thought, 'This is the Pulp Fiction of superhero movie,'" recalls Millar. "Here's stuff people just haven't seen before. Kick-Ass breaks every rule of what makes a superhero movie work." Paramount, reckoned Vaughn, would absolutely love it.
Paramount absolutely hated it. A stunned Vaughn asked them to look at it again. They hated it even more. So, it turned out, did every studio in Hollywood. The answer was the same: no, no, no, no, no, no, no. Seven of them. Goldman's script came back obliterated by the same notes. Your hero should not be a powerless high-school dweeb who gets stabbed in a car park on his first mission. Your heroine should not be a costumed 12-year-old girl whose been trained since birth as a killing machine by an insane father who thinks he's Batman. She should not slaughter 20 men in five minutes during the film's finale. Her dialogue should definitely not starts in C and ends in Tears.
"They were all freaking out when they saw Hit Girl," says Vaughn. "They were not into it for a second. They said everyone was going to freak out when they saw it. I just sat there going fucking nuts: 'That's what makes it fucking good!'"
Kick-Ass had its ass kicked. Vaughn thought back to the last time this had happened to him. Lock, Stock And Two Smoking Barrels
had worked out pretty good in the end. So had nearly every project he'd backed. He was good at this. He was also very rich. "When the whole film business has said no to something, it of course makes you nervous," says Vaughn. "But I just thought, you know what, I've done okay.  I've made enough money to roll the dice. I felt that Kick-Ass could have as much impact as Lock, Stock did. Let's try it again." After pitching round his Stardust producers, a certain Snatch alumni named Brad Pitt and reaching into his own pocket, Vaughn coined together a $50 million budget – a staggering amount for an independent production. "The whole movie was $50m on a few phonecalls," says Millar. "I just love the balls of that, you know? He got to become George Lucas. There were no people flying in giving him notes and saying, 'We don't feel that's hitting this demographic.' Literally nobody could fuck with him."
With great power comes great… stress. With his balls on the table, Vaughn went looking for his cast. In keeping with Millar's pitch to create the Superbad of superhero movies, he auditioned Christopher Mintz-Plasse – aka McLovin – to play Kick-Ass himself. It wasn't working. He looked at Mark Wahlberg, Daniel Craig and Robert De Niro for Hit Girl's father Big Daddy. No one was right. He offered Nic Cage for the role of villainous gangster Frank D'Amico. Cage turned it down. Oddly, the toughest role was the easiest to cast. Unknown starlet Chloe Moretz had been handed the script by her own mother. "She was like, 'Chloe , you're going to have to read this,'" remembers Moretz. "I read it and I was like, 'I HAVE to be Hit Girl!'" Vaughn shuffled his pack and everything started slotted into place. Cage returned to play Big Daddy. Guy Richie fave Mark Strong was cast as D'Amico. Mintz-Presse switched costumes to play D'Amico's son and nascent supervillain Red Mist.
But Kick-Ass himself? Nothing. Cameras were due to roll in a matter of days. And Vaughn felt like he'd seen every kid in America. "Hundreds and hundreds of fucking guys," winces the director. "It drove me insane. I just think it's a shame that most young actors are interested in being famous more than anything else. All these kids were coming in and they had hardly any technique or range. We'd looked everywhere. We were absolutely fucked. I vowed not to cast an Englishman. It was an American movie. I should definitely have and American lead. Then Aaron walked in." Making a flying a visit to LA to cast for other movies, Nowhere Boy
star Aaron Johnson was supposed to be on a plane back to London. Suddenly, he was the lead in a superhero movie. Suddenly, Kick-Ass was on.
Before shooting Stardust, Vaughn had attempted to buy the rights to Tonight, He Comes. "I was outbid and that script – a really dark, R-rated movie that I just couldn't put down – got made into Hancock
. I looked at what they did wrong, how they didn't really embrace the idea of reinventing the superhero." Pixar's comedy actioner and Watchmen
rip-off The Incredibles
was another revisionist touchstone, but Vaughn also revisited genre favourites to rediscover what he loved about superhero movies that didn't break the rules. "You'll notice a lot of shots where we're winking at Superman
and Spider-Man
throughout the whole film." Nic Cage had also done some thinking. The French riot gear that formed Big Daddy's costume looked a bit like Adam West's shonky Batman's outfit. Then Vaughn handed him a yellow belt. In Cage's head, the logic was obvious. "I love Adam West as Batman," explains Cage. "He was my batman as a child and it made sense that Big Daddy would channel him, being my age." Cage, being Cage, went all the way with it. No one on the set was expecting that. "As I recall, there was some applause in the room… and some quietude," says Cage. "And then Matthew said, 'It's going work, it's going to work, it's going to work…' He really supported me. There aren't a lot of directors that have that kind of guts." Guts is right. Ask Vaughn why he cast the star of Wicker Man and you'll get a typically no-bullshit answer. "I think a lot of good actors are only as good as their directors, to be blunt," says Vaughn. "I haven't seen the Wicker Man remake, but my opinion about Nic was, he's also done some of the best movies you can get. I've worked with movie stars who are used to free-coasting down the hill. Most movie stars like to be directed and told what to do. And I think a lot of directors can't or won't or are too scared to tell an actor or movie what they're doing. That's why I became a director. I was looking at these other guys and thinking, 'Well if they can do it, I can."
But could he? They found out at Comic-Con. Unspooling a 16-minutes of footage including sequence where a C-bomb-dropping Hit Girl destroys a roomful of drug-dealers with a sword-stick and a C-bomb, Vaughn, Millar and Goldman sat there while 7,000 nerdcore fans nearly ripped the roof off. "It was insane," says Millar. "I've never seen anything like. People were standing up and losing their shit." Vaughn was genuinely shocked. "Is it a thumbs up or a thumbs down?" he asked the crowd. Handing Kick-Ass its own oddball Spartacus moment, 7,000 thumbs filled the air.
Internet buzz was gigantic, sparking the bidding frenzy that Vaughn thought should have happened two years ago. This time, though, he was naming his price for one of the the hottest superhero movies of the year, cutting a hugely lucrative deal for himself and his investors.  Taking an indie approach to a blockbuster had been a massive gamble. But one worth taking – and one worth doing again. "Yeah, I think I would do it again," nods Vaughn. "Ultimately, it was less stressful than making a studio movie, because there are no arseholes and morons telling me what to do. And that is a very liberating feeling."
Just as Avatar smashed down new technological boundaries, Kick-Ass could have done the same for artistic ones. The film's investors ponied up their cash before the financial crisis clamped down. Right now, an independent movie looks a better bet than stocks and shares. "I think it's going to mean a lots of investors coming in looking to fund independent filmmakers," says Millar. "They're going to want to find the next Kick-Ass."
The next Kick-Ass? According to Mintz-Plasse, Millar already has a title for it: Kick-Ass 2: Balls To The Wall. First, though, Vaughn's movie needs to punch/kick it's weight at the box-office. Snakes On A Plane
showed all too clearly how online buzz isn't worth the blogs it's written on. And in a fascinating David-and-Goliath box-office scrap, Kick-Ass hits cinemas just days before 3D mega-blockbuster Clash Of The Titans.
Wisely, Vaughn is staying cautious ("Clash is meant to be unwatchable, that's the only good news there"), but the clamour for a sequel is still audible. Ideas have been flung around. Everyone wants it. "I don't want to tempt fate of it being a flop," says Vaughn. "I still have no idea how this film is going to do. But I've always loved the idea of a massive fight in Time Square between loads of fucking freaks dressed up as superheroes.
And how about the new bad-boy of comic-book adaps? What could Mark Millar possible have in store for the sequel? "Well… We'll see." says Vaughn, with a dry chuckle. "Did you ask Mark about his desire for Big Daddy to turn out to be a paedophile rapist of Hit Girl? He'll deny it. He's already denying. He's like, 'What the fuck are you telling people about that for?! I never said that!' I'm like, 'Yes you did. I've got it in writing, mate…'"
Publication: Total Film