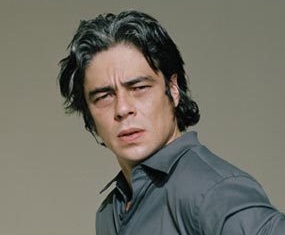 It's your birthday tomorrow, right?
That's right. I'll be 43.
How does that feel?
Couldn't tell the difference.
Aren't you going to celebrate?
I'm not too keen on birthdays. Never was when I was a kid. I always got shy about that cake and the candles.
Why?
I don't know… I get shy. Ever since I was a kid. Hopefully I'll celebrate with some gifts. I like the gifts! But the whole surprise stuff? Whoa, don't do that. I just feel like being a host is hard work. Sitting there and talking to everyone would be exhausting. But if the gifts are good then I'm all tongue and lash!
What should we have got you for your birthday?
I'd like maybe a Red Cam. It's a camera. Go ahead. Can you give it to me?
We'll talk to the boss. What's the most expensive present you've given yourself?
I think it might have been a painting. It was a painting by Paul Simonon. It wasn't that expensive, but it was… by the bass player of The Clash. He's a great painter. I've been a fan of his work and while I was in London doing The Wolfman I went to see his work, got the chance to meet him and went away with a painting.
How do you think you've changed over the years?
Yeah, it's different. It's a different passion now. I know much more about movies and acting than when I was 20. I do want to explore other things in the film world.
Like what?
Tell people what to do! I usually get told what to do. I'd like to try to direct something, to tell a story. And I'd like to produce some more.
Which filmmaker would you love to work with?
It would be a dream to work with Scorsese. Silence, the film we were going to do, has been pushed back, but that's definitely something that I'm really looking forward to. Every time I talk to him, it's like the same as meeting with Yoda.
So why does an Oscar-winning actor dress up as a wolf?
As I kid, I loved watching those classic Universal horror movies like Frankenstein
, The Wolf Man
, Dracula
, The Mummy
, Creature From The Black Lagoon
. Those are my earliest memory of movies.
You've been known as a Method actor. How do you go Method to play a werewolf?
You hope that the makeup covers you. As you put it on and you're looking in the mirror, you start playing with the makeup, your face, what it can do. I found out that if I showed my teeth, it was scarier. The same way that if you see a dog lying there, if the dog it showing you its teeth, you'll move away from it. So I showed my teeth as much as I could.
Was it useful that you have a very thick head of hair?
I'm hairy in the right places. Where you don't want to get cold. It wasn't too comfortable, but it looked cool. When you do a movie like this, the monster has to walk a thin line. He's got to look scary but he's got to look cool.
Did you need something lighter after playing Che Guevara?
After Che? Definitely. I needed dessert. I just felt it was probably the best way to recover. I started this movie maybe 10 weeks after I finished Che . So it was a great decompressor. Because for every choice I make in Che, there's 10 books. For every choice in The Wolfman, I could go anywhere.
On Fear And Loathing In Las Vegas
, you put on 40lbs and burned yourself with cigarettes. Do you always go that far?
It depends. If you're gonna play a character, you better know what you're doing, so you can make it seem believable. You take George Clooney in that TV show where he plays a doctor. He's not a doctor, so he couldn't perform a surgery. Well, maybe he could! I don't know. But he made it convincing. And that's acting.
Do you enjoy transforming yourself with each role?
You know, yeah. I'm a big fan of all those actors – from Vincent Price and Christoper Lee to Willem Dafoe and Johnny Depp – those actors who put on makeup and that have done these kind of movies. I'm the same.
Do you see yourself as a chameleon?
I don't see it like that. I'm just an actor. I like to do different kinds of movies. For me, it's interesting to go into these fantastic worlds. But it's not like I dictate all that. I just happens that things come to me and they're always different. That's the movies I get.
What do you do when you're not working?
I listen to music. I read. I daydream. I drive, if I'm in LA. I don't drive, if I'm in New York.
What are you reading right now?
Right now I'm reading a book about two basketball players
. You know, I used to play basketball. Magic Johnson and Larry Bird had a rivalry in the '80s and they both got together and wrote this book. It's great to see what they were thinking behind closed doors. They're really open about it and it's a lot of fun.
We always read more about your performances that your personal life.
Yeah. Yeah. So do I.
But why is that?
What it's kind of like, I was reading a little bit about JD Salinger last month. And they talk a lot about his private life. The lack of knowledge of his private life. WHO CARES? The man made all these stories. Who cares about his private life? It's about the work. It's about the work.
Could you tell us something about yourself that people be surprise to learn?
[Long pause] I don't know… Who am I to say what is going to surprise people? Um… I want to say, like… When I was in Mexico I ate some crickets.
You ate some crickets?
They have crickets there. They're very good. They taste like fish. They're high in vitamin C. A little bit of lemon and let's go! Yeah, they fried them.
Are you playing Moe in the Farrelly brothers' remake of The Three Stooges?
If the cast they want is willing, I'll be ecstatic. They want Sean Penn and Jim Carrey. And so if that's the case, who am I to say no? I've watched the stooges when I was a kid and always liked them.
Sean Penn is an intense actor, too. Is he actually funny?
Oh yeah, very funny. Very funny. I've had long laughs with Sean. You know was really funny? His brother Chris. No longer with us. But really funny.
Looking forward to going madcap?
Yeah, yeah – I'll be poking everybody in the eye!
You're still the youngest ever Bond villain. Does it feel a long time ago?
I remember the audition. I walked in, Albert Broccoli asked me how tall I was and how much I weighed. Then he said, 'Okay, you got the part.' Can you believe it? Imagine this. I grew up in Puerto Rico. After the monster movies, the next kind of movies that came into my life were Bond movies.
What was the first Bond movie you ever saw?
Live And Let Die
with Roger Moore. And my room became a Bond room! Cut to six years later, I'm in a Bond movie. It was really strange for me. But it was really strange for a lot of my friends who didn't know I'd turned to being an actor. I was only 20. They all freaked out seeing me in this Bond movie. They'd go, 'No, no, no… How did he get that?!'
Would you come back to play a Bond villain again?
Sure! I'm still good friends with the producer, Barbara Broccoli. I mean, Bond is always going to win! But I could take him on for 15 rounds…
Publication: ShortList