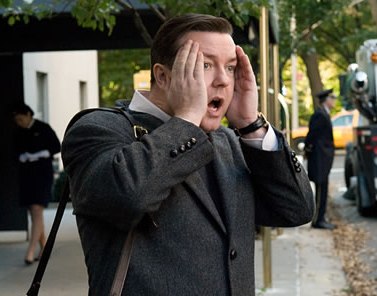 Ricky Gervais could be a fat Jack Lemmon. In his first Hollywood leading role as a miserablist New York dentist who can't stand other people, Gervais nails funny, fumbling pathos as smartly as his trademark bum-puckering quips and deadpan sarcasm. He's Bertram Pincus ("It's Pink-Ass, right?), a man who, after flatlining briefly during bowel surgery, wakes to find he sees dead people. Everywhere. And they all want to talk to him. Think Ghost
, The Frighteners
, The Sixth Sense
and Over Her Dead Body
: it's the dead who show Pincus how to live.
While grudgingly helping husband-turned-roadkill Gregg Kinnear get in touch with his widow Tea Leoni, Pincus realises he's falling in love with her. Which is as sappy and predictably as it sounds. But this gentle, amusing romantic-comedy
from writer/director David Koepp keeps surprising you with tiny, lovely touches, before ending on the sweetest last line of the year.
[rating stars = "3"]