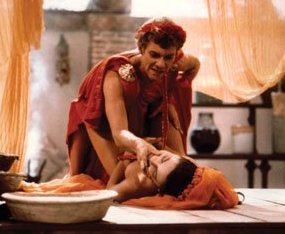 "God help us!" The first words of Malcolm McDowall's addictive DVD commentary say it all. Written by Gore Vidal (who disowned his screenplay), helmed by Salon Kitty
saucepot Tinto Brass (who rubbed out his director's credit) and produced by Penthouse publisher Bob Guccione (who personally put up the $17.5 million budget), Caligula
remains a disaster of such astonishing epic oddness that it simply can't be ignored.
Fellini's Oscar-winning production designer produced 64 incredible sets, 450 gallons of blood and over 3,500 costumes. Some of most revered British actors alive signed up. Guccione flew in Penthouse Pets to play countless writing naked extras, snuck on to the set after dark to shoot hardcore porn scenes, then locked the director out of the editing room to assemble the movie himself.
What emerged – some four years later – was a truly staggering mess: McDowall off the rails as the depraved Roman emperor lost a mad hell of sex, torture and murder; Helen Mirren, John Gielgud and Peter O'Toole watching their dignity spiral down the plughole; decapitations and disembowelments a-go-go; reams of faceless flesh.
Too joyless to be kitsch, too sexless to titillate, too out-there to offend and just too long to sit through, the X-rated epic gets some sort of second life through this doorstop four-disc 'Imperial Edition'. Take your pick from the Caligula threesome: the castrated "Theatrical Version" clocks at 101 mins; the "Complete Uncut Version" lasts 156 minutes and boasts Guccione's hardcore sequences; "The Alternative Version" runs three minutes shorter and makes (slightly) more sense. Better still, skip the lot and learn the full story of Caligula's barmy history through an array of fascinating extras.
Three affectionate, funny and hugely informed chat-tracks from McDowell, Mirren and Penthouse's on-set reporter. Hours more violent special-effects, bore-a-thon orgies, hairy close-ups and spectacular sets in the B-roll, wordless behind-the-scenes footage and deleted scenes. An hour-long Making Of doc plus frank interviews with "Caligula's Pet" Lori Wagner and Tinto himself. Masses of DVD-ROM press-kit materials even include two versions of Vidal's script and Penthouse magazine's special Caligula issue.
Predictably, the last word goes to McDowell. He claims his horse turned in the best performance.
FILM: [rating stars = "2"]
DISC: [rating stars = "5"]
Publication: Total Film