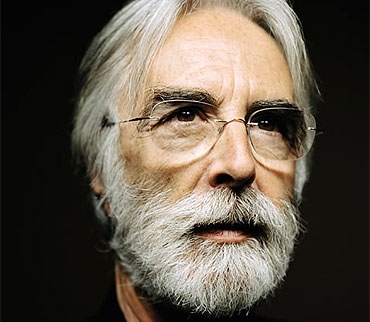 Black and white! Bleak as winter! Starring no one you've ever heard of! Subtitled! Nearly three hours long! Sort of about the war but doesn't actually have any war in it! Few films this year will be as head-smackingly uncommercial as the latest from Austrian arthouse giant Michael Haneke. Why head-smacking? Because few will be better.
After winning the Palme d'Or at the Cannes film festival and sweeping up mass critical love, The White Ribbon
hit cinemas on the same day as Roland Emmerich's latest spectacular end-of-the-world blockbuster 2012
. The week before, Megan Fox played a naked man-eating zombie in Jennifer's Body
. The week after, Twilight: New Moon came out.
So The White Ribbon poses numerous fascinating questions. Why is a mysterious terrorist dishing out ritual punishment to the locals and their children in rural Germany circa 1913? Can we observe the birth of fascism in this tiny village on the brink of World War One? And who the hell is going to see this film?
Wearing his fearsome trademark regalia of head-to-toe black and a clipped white beard, Haneke peers intently from behind his glasses. Then he smiles. It's a big, warm smile from a 67-year-old master moviemaker who's more than used to that last question.
He's been here before. His brutal house-invasion thriller Funny Games
brilliantly autopsied our relationship with screen violence. But it was in German. Meaning nobody saw it. So Haneke did the unthinkable: went to Hollywood and directed a shot-for-shot remake starring Naomi Watts.
"The idea in making the Funny Games US was that I wanted to reach an English-language audience, an audience that didn't turned out for the original German-language version," he explains. "In fact, it turned out that the English-language version didn't do well at the box office either." He sighs. "To be quite honest, it was a flop."
What better way to follow up, then, than with a film like The White Ribbon. Something so austere-looking than even Haneke fans may grit their teeth at the prospect of spending two and a half hours in a world where everybody's miserable. "I never worry about whether a film is going to be commercial or not," claims Haneke, somewhat contrarily. "Of course, I'm very happy if the film turns out to be a success. Every director tries to reach the widest audience possible. But the real question is, are you're willing to betray your ideas to reach a wider audience? Are you willing to simplify your ideas to present a more primitive version of your concerns in order to reach a wider audience?"
No chance of that with the Austrian. No chance of an English-language remake of The White Ribbon either. Or a colour version on the DVD, maybe? "Oh my God!" he exclaims, before exploding with jolly laughter. "No, because the black-and-white was an artistic choice. We think about the past through black-and-white images, so it both brings the film to life and it doesn't pretend to recreate the world. It shows there is a difference."
So let's lock it down: why should audiences go and see The White Ribbon instead of a movie about John Cusack running away from massive earthquakes and fireballs falling from the sky? "Because it's so suspenseful!" enthuses Haneke. "The White Ribbon is a thriller. You obviously can't lure an audience that's simply out to be entertained. However, you can give them elements they find entertaining. In the case of The White Ribbon, it's full of tension and suspense."
No question about that. Gorgeously lensed, powerfully acted, spiked equally with shocking moments, surprising humour and gentle romance, Haneke's movie is a masterfully constructed whodunnit drama that's never less than compulsive.
It also packs two more throat-grabbing Haneke calling-cards guaranteed to grip a crowd: sex and violence. Benny's Video
saw a boy's psyche mangled by horrific images. Funny Games is one of the most vicious films ever made. The Piano Teacher
follows the sadomasochistic traumas of woman who slices her own genitals. What makes Haneke's ultraviolence fascinating is that while it soaks every frame, you rarely see it – and it cuts deeper than any Hollywood torture-porn. Unspeakable brutality takes place just out of view, blood rarely splashes across the screen and the camera waits and watches like a killer in the shadows. Child abuse, domestic meltdown, death and adultery all explode out of The White Ribbon's dark corners. 
"It's always more efficient if you bring into play the imagination of the audience than if you simply feed them with finished images," explains Haneke. "But there are no movies without sex and violence! Even comedies…" And guess what? The Dark Lord of arthouse cinema loves comedies. He's never seen a Jim Carrey film ("Nothing against Jim Carrey… just not my taste") but just mention of Chaplin is enough. "Ah, The Gold Rush!" he beams, fondly. "It's so touching… It's one of my favourite films!"
Not that we're ever likely to see a pratfall laffer from Haneke. While smart cinema-goers are wrapping themselves in The White Ribbon, the filmmaker is already preparing his next movie. "The project I'm working on now deals with the humiliation of advanced old age," he explains. "How our existences are reduced and the physical regression that we experience." Got it. So definitely not a comedy. "Hahaha! You're right!" he laughs loudly. "Mmm, maybe I should do a musical instead…"
Publication: Total Film