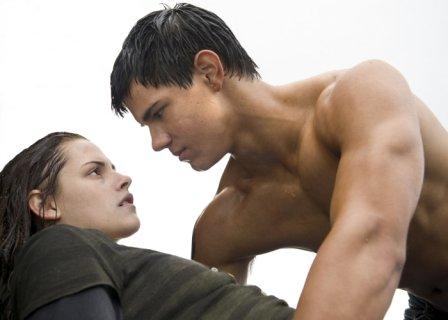 Hot glances, forbidden desires, untamed passions and swooning hearts… Just some of things missing from this bloodless second bite of The R-Pattz Show. Sorry, the Twilight saga. But who are we kidding? You'll see it anyway.
New Moon
is apparently Robert Pattinson's favourite book of the series. Maybe because it's the one he's hardly in. After yet another clumsy moment in the Cullen household (papercut, d'oh!), Edward (Pattinson) decides he must save Bella's (Kristen Stewart) soul by dumping her – and the movie.
Bad news for R-Pattz fans. Bad news for everyone, in fact. With Edward and his lovely rug out of the frame, Taylor Lautner jogs into Bella's life with a haircut and a high-protein diet. Sadly, that's all he's got. Shirtless for a comical amount of time as ab-fab Native American lycanthrope Jacob Black, Lautner is more love-sick puppy than tortured inner-animal. If he's the beef, he's badly undercooked.
That's kind of the point, of course. Bella prefers the cold beauty of Edward to the hot blood of Jake and there's a painful truth in her admission that she won't discourage Jake's futile pursuit of her: she'll never want him, she just likes the company.
But there's not nearly enough of this salty agony in the script. Even the shivering excitement between Bella and Edward has faded to a moping angst – there's no tingle when they kiss, just a pained grimace from Cullen. We're guessing due to the direlogue they're forced to stumble through (Bella: "I'm coming." Edward: "I don't want you to come.").
Robbed of the chemistry between Pattinson and Stewart, we get Lautner and his wolf-pack scampering around in cut-off jeans. Oh dear. Having steered The Golden Compass
from Narnia-beating franchise to one-movie fail, director Chris Weitz botches the romance but does nail the (very) occasional adrenaline-spikes as vengeful vampirella Victoria (Rachelle Lefevre) hunts Bella and CG lycanthropes tussle in the woods.
For all the wounded looks and snarling fangs, Stephenie Meyer's bestsellers found their hook by making vampires safe for young readers. Ghostly visions of Edward appear whenever Bella is in danger – but in this world, she's never really in danger. When she recklessly takes off into the night with a lascivious biker, he just kindly drops her off when she asks him to. Because that's what happens, girls.
Luckily, Stewart gives another convincingly breathless performance and Ashley Greene's perfect embodiment of Alice lifts the film whenever she skips into view. And it says plenty that New Moon only pulls back into focus when Edward does. Finally jetting to the Italian throne-room of the Volturi's vampire monarchy, the story gets a major surge from its fresh blood: Dakota Fanning is effortlessly chilling as enfant terrible Jane and Michael Sheen is all razorblade smile as dark lord Aro.
Too little, too late. Dragged out for 130 minutes, this cautiously faithful adaptation feels toothless and drained.
RATING: [rating stars = "2"]