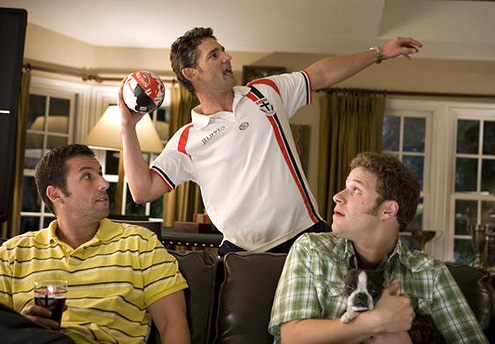 Having sex and kids were the jutting funny bones of The 40-Year-Old Virgin
and Knocked Up
, but for his third film as director, Hollywood powerhouse Judd Apatow completes an oddball trilogy-of-life with a serious comedy about death.
It's Apatow's richest, riskiest movie yet – and his most personal. He shared a flat with lead-man Adam Sandler when they first came to LA. Both were stand-ups, Sandler was better. Fast-forward decades to Funny People: Apatow casts Sandler as George Simmons, a former hotshot stand-up who's become the millionaire star of idiotically popular movies in which he plays a giant baby. You get the joke.
Then the laughter stops. George is dying. Stricken by a fatal form of leukemia, he leaves his lonely Xanadu-like mansion and reaches out to aspiring young stand-up Ira Wright (Seth Rogen), hiring him as his joke-writer, personal assistant, punch-bag and friend.
Let's be straight: Sandler's no great actor, not even likeable at times. But whatever the autobiog here, you feel like he gets it: he wins our sympathy even as he exposes George as a prickly, selfish self-pitier. Difficult, adult emotions – joy, doubt, regret, loneliness – cut right through the movie and Sandler's understated, perceptive performance digs into them. Rogen, meanwhile, has calmed down and slimmed down ("Physically fit men are never funny," jibes the still-spherical Jonah Hill) since breaking out in Knocked Up. He's an amusing, earnest and a lovely counterpoint to Sandler's bruised nowhere-man.
There are no good people or bad people here, just people: funny people, sad people, real people. And Apatow, a brilliant director of actors, isn't afraid of them. Discreetly, sharply, he autopsies how wealth and fame eludes those who seek it and hollows out those who find it. At it's best, Funny People is mature, complex drama. It just happens to have some of the best dick-jokes in cinema history.
You can't help wishing Apatow had the balls to push it deeper and darker. One of Funny People's pleasures is that it keeps going where other movies stop. But when George decides to reconnect with the girl that got away (Leslie Mann, aka Mrs Apatow), who's now married an Aussie businessman (Eric Bana, acing his comic turn), this ambitious, swollen story starts feeling like two or three of them crammed into one.
So not the career masterpiece that it could have been and badly overstuffed at 146 minutes. But it's also refreshingly loose and beautifully shot by Spielberg's Oscar-winning DoP Janusz Kaminski. Apatow's gags flow free and easy, each loaded with a stinging slap of honesty or a slicing insight. Particularly amazing given most them are below the belt. Literally. Just wait for Rogen's skit about what Tom Cruise, David Beckham and Will Smith do when they're bored.
VERDICT: [rating stars="4″]

Funny People proves Apatow can still touch you in places that other comedies don't even know exist. And yes, that includes down there.
Read the original article at MSN Movies.