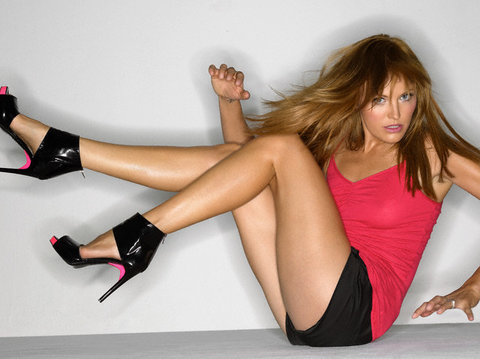 She's Swedish, she's a former-model and she kicked ass in Watchmen. Malin Akerman reveals how you can cure a cold with spirits, pick up Nordic beauties and beat a hangover…
1. Swallow this chat-up line
"Use the instant chat-up line that's great for both of you. Buy a girl my favourite drink: vodka, soda water and cranberry juice. You can tell her the cranberry is an antioxidant, the vodka is less likely to give her a hangover than red wine and it has very few calories. In short, drinking with you is good for her health!"
2. Fighting flu is easy-squeezy
"Sick? Try our traditional Swedish remedy. When you have a nasty cold or a sore throat, pour some vodka and squeeze a whole fresh lemon into it. Then just down it. It'll help kill the bacteria and you'll feel a lot better. Unless you decide to finish the bottle."
3. Cross to the next level
"My best workout tip is cross-training. It's what we did to get in shape for Watchmen. You shock your body every day, doing everything from obstacle courses to intense weight lifting. If you do the same thing every time you go to the gym, your fitness only gets to a certain point and never gets any further."
4. Beat the lying game
"The secret to a great body is never lying to yourself. A lot of people – including me – are very good at lying to themselves about whether they'll make up for missed workouts later or whether they really can't do five more minutes on the treadmill. The trick is to work out with a buddy, who won't let you get away with it – it's harder to lie when someone else is involved. Unless that person is your mother-in-law."
5. Start the day like a superhero
"Eat the Watchmen breakfast. We were told to eat an egg-white omelette with spinach and feta cheese in it. Really high in protein, really good for your training. Not just for guys who are bright blue and naked."
6. Hold on, let go
"Let go of resentment and hold on to integrity. Go by these simple rules and you'll be a happy person. Why? Resentment never helps you achieve things and will always push good people away from you. Integrity will bring them closer to you."
7. The language of love
"Want to be the most desirable man in the room? Just go to Sweden. Swedish girls <really> like foreign men. I'm serious! The ratio of Swedish women who marry outside of the country is huge. If you see a Swedish girl, say: "Du ar vacker. " It means, "You look beautiful." They'll love your cute accent. Offer to buy her a drink ("Får jag bjuda på en drink?"). A vodka, soda and cranberry, remember…"
8. Don't be afraid of scare tactics
Scare yourself – it's the only way to make change happen in your life. When I was 16, I probably didn't say more than two words a year. I was so shy. But if you're shy, challenge yourself to talk to a stranger every day. Just pay them a compliment and watch the amazing reaction. You'll instantly become a stronger person – in your eyes and other people's eyes – and you'll do new things you thought you'd never do.
9. Success begins with a Zzzz
Sleeping is as important as training. On Watchmen, we trained for two months, then continued for the full eight months of shooting. Every night I just came home and slept! You need to get at least six hours sleep every night or you'll never have the energy to achieve you goals.
Two Second Tip: Swap your morning OJ for a glass of purple grape juice. It packed the highest amount of antioxidants among 13 juices tested in a study published in the Journal of Agricultural and Food Chemistry.
Publication: Men's Health