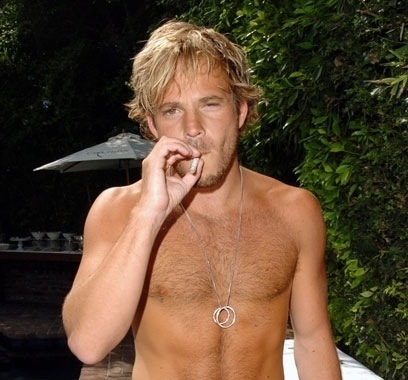 You're suddenly starring in big movies for Michael Mann, Adam Sandler, Sofia Coppola and American History X
director Tony Kaye. Does it feel like you're on the brink of a real comeback?
Yeah, I mean… A couple of years ago, I wasn't getting the films I wanted. And then I did this prison movie called Felon
that was received pretty incredibly. I was like, this is weird for me. A movie that everybody seems to like! This is kinda cool! I suddenly started getting offered all these movies.
What are you doing right now?
I'm in the Chateau Marmon, shooting this film called Somewhere with Sofia. It's the story of an actor who kinda goes out of control and gets this surprise visit from his 11-year-old daughter. And it becomes this love story, like Lost In Translation
, between these two people who don't know each other too well.
The Marmont is part of Hollywood legend. James Dean stayed there. John Belushi died there.  Have you spent much time here?
Yeah, well, funnily enough, I lived here for nearly a year when I was 21. I had my 21st birthday party here. It was pretty wild… Now to be back – and I'm 35 now – it's kinda trippy.
Is there's some autobiography in the role for you?
Well, I don't think I've lived my life as decadently as Johnny Marco, but there's definitely something I understand. That I've gotten famous out of nowhere and it's been a while…
Thinking back, are there any big roles you wish you've gotten?
I don't know if you want to write about this, but… I mean, there was a movie like Boogie Nights
that I probably could have done. They offered me the lead but I didn't want to do it. At the time, I had just played Candy Darling in I Shot Andy Warhol
– wearing garters and waxing my eyebrows! I was like, 'Am I getting too weird here?' I just got a little paranoid. Which, in the end, was a mistake.
Does that bother you still?
Well, I just a lost a part to the Star Trek guy! I just thought that was funny! You read about De Niro and Pacino, the stuff that even the great actors turned down. For the most part, I've think I've been lucky to be in movies. But at the same time, I've never exploded into Johnny Depp-type stardom. I've never had my Pirates
. Now it feels like it's time.
Why do you think things have finally changed for you?
I lost my mom this last year. I never really lost anybody. And it's the worst thing you can go through. It opened my eyes and shook me up. I think my mom's been with me on this journey in a weird way. Sofia gave me the role on the one-year anniversary of my mom's death and I felt my mom there with me. I was happier in a way than I'd been in the last year, because then I went right into Michael Mann's Public Enemies. Being on that film probably kept me out of the darkness. I really think that movie saved me. I still get sad all the time about my mom. But I'm sitting there next to Johnny Depp.
Is Johnny Depp an inspiration to you?
I loved how Johnny did it. He was a guy who was just doing movies he wanted to do. But then his superstardom and his money and all this craziness came later, once he had children. He ended up, as he called it, doing this "silly little pirate movie". And it changed his life.
Do you feel like you're ready to settle down yet?
I've always thought I was a late bloomer when comes to marriage and having a baby. I think it'll probably happen to me more in my early 40s. I'd like to meet somebody special and have kids. Because I don't want to be alone. I don't want to be calling up the booty calls when I'm 60!
Do you think you've made mistakes?
Yeah, I mean, I always constantly worked. But I felt like after Blade
, which was my first commercial big hit, I didn't really capitalise on it. Not to knock my own movies, but there's a couple I did that I probably shouldn't have done. Alone In The Dark
was probably the worst. But now, a couple of years later, it's like, Jesus, I'm getting these incredible parts. And I really have to, like, fucking… do this!
Does it feel good to be back?
Yeah, I love i-D. It's one of my favourite magazines and I was really happy to do this shoot. It showed me that maybe I did disappear because it's the first photoshoot I'd done in a while. I was like, 'This is weird!' I can't wait to see it.
Publication: i-D.