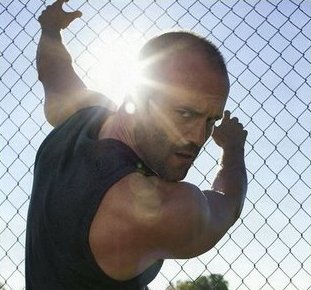 1. Statham has action in his blood
His father was a boxer and a gymnast (and taught his son both). His brother loved martial arts (and used little Jason as his personal punch-bag). Growing up, Statham also learned the family business, working as a fast-talking London street trader.
2. Statham has a talent

When he was a kid, Statham's parents took him on holiday to Miami. Wowed by a diver on the high board, he began diving aged 13. Inside a year, Statham was on the British team. He competed for 12 years, placed third in Olympic trials on three occasions and ranked 12th in the world on the springboard.
3. Statham doesn't do refunds
Modelling for French Connection at the time, Statham was offered an unusual audition by debut director Guy Ritchie. He could have the role of Lock, Stock And Two Smoking Barrels
' illegal street-trader Bacon if he could convince Richie to buy some fake jewellery. A few minutes later? Richie had four sets of jewellery. Statham had his acting debut. He refused to return Richie's money.
4. Statham isn't gay
Action-movie trilogy The Transporter
made Statham a major Hollywood alpha male. Somewhat surprising was Transporter 2 director Louis Leterrier's belated revelation about his kick-ass character: "If you watch the movie and you know he's gay, it becomes so much more fun!" Weirdly, Leterrier didn't direct Transporter 3
, in which Statham finally kissed his (female) co-star.
5. Statham is a lover
Statham got his very first screen kiss in sci-fi horror Ghosts Of Mars – with former model Natasha Henstridge, no less. Sadly, it was rubbish. The film, not the kiss. Even worse, he'd passed on terrific Brit werewolf shocker Dog Soldiers
to star in it. Which, in fairness, didn't star Natasha Henstridge.
6. Statham likes models
He dated English model Kelly Brook for seven years before she ran off with rival baldie Billy Zane while shooting their dreadful desert-island thriller Three
. Statham had to settle for a follow-up fling with stunning Aussie singer-turned-actress Sophie Monk. Poor bloke.
7. Statham loves Audis.
He owns two of them. Drives them in the Transporter films. Starred in a Super Bowl ad for them. Even narrated a documentary about them. However, despite being trained by Formula 1 ex-champ Damon Hill for The Italian Job
, he admits co-star Charlize Theron was a better driver than him.
8. Statham is a fighter
An expert in martial arts (he practises Jiu-Jitsu with Guy Richie), Statham does nearly all his own stunts, everything from car chases and scuba diving. One crunching fight sequence in Crank
ended with his stuntman opponent being taken to hospital with mild concussion.
9. Statham got game
When fellow chrome-domed hardnut Vin Diesel dropped out, Statham declined to star in videogame adaptation Hitman
. Smart move. But he does occasionally lend his gravelly British voice to videogames, including WWII shoot-'em-up Call Of Duty where he plays a gravelly voiced British soldier. Choice line? "Are you blind or deaf or just plain stupid?" Clearly, war is hell.
10. Statham likes Jet Li
Sly Stallone's war movie The Expendables will be the third time Statham has acted with the mini martial-arts star. At 5ft 10, Statham is taller than both Li (5ft 6) and Stallone (5ft 9), but shorter than Expendables co-stars Mickey Rourke (5ft 11) and Dolph Lundgren (6ft 5). Yes, we actually measured them.