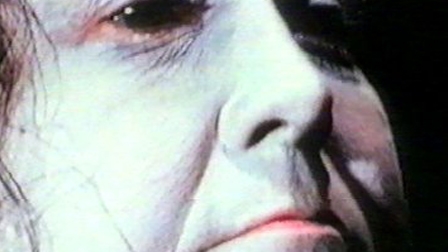 Eyes wide open for six fascinating black bore-holes into David Lynch's cinematic awakening. Dreams and reality, fears and desires, sex and death, innocence and adulthood… It's all here. These short films
, made as an avant garde art-student are pupating nightmare-glimpses of what would emerge from his amazing surrealist feature debut Eraserhead
.
Trained as a painter, Lynch first gave life to his mutant images with Six Men Getting Sick (1967), a one-minute animation looped four times: six cartoon heads and stomachs grow ill, then vomit across the canvas, as an unnerving siren whines. "But it was during The Alphabet, I kinda got the bug," explains Lynch on one of the intros that front each short. Indeed, The Alphabet (1968) is a chilling four-minute vision of a young girl's (his then-wife, Peggy) bad dream in which children's voices chant the a-b-c, animated sexual imagery assaults the screen, horrifying faces flash up and the girl coughs blood on to the white bed-sheets.
Three years later, The Grandmother (1970) became Lynch's first narrative id-scooper. Running just 34 minutes, it sees an animalistic couple give birth to a son, who decides to grow a grandmother to look after him. It's a stylistically dazzling splice of animation and film – the last time Lynch would mix mediums – about deranged domestic spaces, frightening orifices, twisted love, familial abuse… and then some.
After this, The Amputee (1974) is just a minor black-and-white gag-reel (a young woman writes a love-letter while her nurse tries to stop blood squirting from her hideous leg-stumps) and The Cowboy And The Frenchman (1989) (about a deaf ranch-hand and lost European) proved Lynch should stick to sick jokes instead of slapstick.
But then comes something really special: a bizarre, beautiful shred of film shot by Lynch on an original Lumiere brothers camera and lasting just 52 seconds. Featuring two policemen investigating a dead body and strange creatures holding a naked girl in a water-cylinder, it's an eye-blink short story that's as disturbing, compulsive and enigmatic as anything on the disc.
FILMS: [rating stars="4″]
DISC: [rating stars="2″]
FIVE MORE… DARK DREAMS
1. Last House On The Left
A chisel rests on the front teeth of one of the helpless sadists. The parents of his victims raise the hammers… BANG! A premonition of Wes Craven's Elm Street nightmares.
2. Los Olvidados
Clucking chickens, a dead boy who laughs under the bed, a mother's hands reaching out… Luis Bunuel pours Pedro's dream through eerie slo-mo and Lynchian sound distortion.
3. Wild Strawberries
A morning walk on the empty streets turns into a metaphorical dreamscape of Death-warnings, compulsively shot by Bergman.
4. Spellbound
Giant scissors slice through a curtain of eyes, as Salvador Dali dreams up a surrealist nightmare for Hitchcock and Selznick's psychoanalysis-obsessed murder mystery.
5. Dead Of Night
Five dreams for the price of one in this amazing Brit horror portmanteau, including the most frightening ventriloquist's dummy in cinema history.
Read the original article at Total Film.