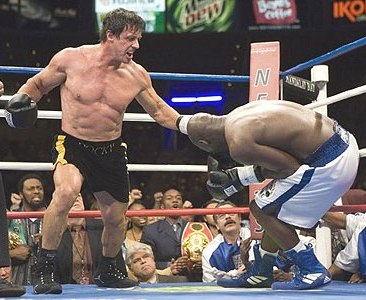 One last film. One last fight. One last time. In a new century when Batman begins and Bond reboots, Stallone plants his feet firmly on the canvas and reaches all the way back to 1976. Like the no-star, low-budget blockbuster that beat All The President's Men at the Oscars, Rocky Balboa is pure Cinderella story: a small, personal humanist drama boasting a cast of nobodies and a central star with the odds racked against him. And it's everything everyone was hoping for: an old-fashioned fairytale that gloves up with soaring melodrama and delivers a thumping left-hook to the heart. Believe it: Rocky Round Six is up there, right up there, with the best of the saga. In fact, as a comeback, this might just be the greatest triumph of Stallone's career. At least since 1976…
Remember the last time Sly wrote, produced and acted? That's because it was Driven. Here, he's directing as well, taking us back to the cold, dim streets of Philadelphia – back to where it all began. His wealth gone (and, helpfully, the brain damage donated by Drago in Rocky IV), we find the aged Balboa rolling out fight-stories to customers in his local restaurant. Gone, too, is Adrian. And boy, does Stallone lather on the schmaltz and syrup, dousing every frame in celestial light and swelling grief-music as Rocky makes moping pilgrimages to Adrian's graveside, the crumbled icerink, the boarded-up pet shop.
But as Stallone's gentle gift for funny, engaging, naturalistic dialogue starts to take hold, the movie fills up with tiny, poignant moments. Scuffed with heartfelt sincerity and naïve emotionalism, it's a film that makes little people bigger than life. There's Rocky's tentative romance with divorcee bar-woman Marie (beautifully underplayed by Geraldine Hughes). There's Rocky stretching to connect with his city-slicker son (Milo Ventimiglia), drowning in his famous dad's giant shadow. There's Adrian's bitter, loyal brother Paulie (an enjoyably florid Burt Young), trying to forget his own lost dreams.
Now let's not get carried away. This is still a Rocky film. Sentimental? You bet. Corny? No doubt. But reaped here by Sly, it's corn that glows golden to the core, canonising Rocky as one of the all-time great Hollywood screen heroes. If Jimmy Stewart could hit, he'd be Rocky Balboa.
Buckled irresistibly to Sly's own true underdog story, the movie's zero-to-hero arc feeds richly on passing-of-time pathos. With 30 years carved into that tough, hangdog face, the Italian stallion delivers an effortlessly touching performance, all gentle eyes, broken delivery and careworn humour. And it's a moment of shocking power when Stallone suddenly throbs to life, breaking down in a choked confession of guilt, regret and rage. The beast is still in the basement. And there's only one way to let him out. We need a montage.
"What we'll be calling on is blunt-force trauma," asserts Rocky's trainer (Tony Burton), in one of Stallone's brilliant, crowd-rousing monologues. "We're gonna hit him so hard his ancestors are gonna feel it. He's gonna feel like he just tried to kiss an express train. Let's start building… HURTIN' BOMBS!" Cue Rocky theme. If you're not whooping like a lobotimised American punter, you're not breathing. It's all here: jogging through snow-caked streets, pumping industrial iron at the gym, pounding carcasses in the frosty meat-locker and finally, yes, that air-gulping, sky-punching dash up the Philadephia Art Museum steps.
Catharsis – for Rocky, Sly and us – here takes the shape of Mason "The Line" Dixon (Antonio Tarver), standing in for the first film's high-powered superchamp Apollo Creed. It's a dent on the story that Sly never finds time to etch in Dixon's fear-factor or frailties as he did Creed's, but the big fight (yes, there's only one), when it finally arrives, is an exciting, violent cap to a tender, moving film. With veins cabling across his hulking torso, the 60-year-old Stallone moves like an oil tanker compared to the quicksilver Dixon. But behind the camera, he hits overdrive the second the punches start exploding. Colour drains from the screen, Sin City-style, painting the combat in a frantic palette of black, white and blood-red, while startling montage combos see the fighters' fists thundering alternately into sweating, bloody torsos and butchered meat.
Concussive, desperate stuff. But does he win? He already has. It's fitting that the fight is an exhibition bout. No title at stake. Just pride. As Sly throws in the towel on one of the most enduring, endearing sagas in modern Hollywood history, you can't help feeling he needed it. And so did we. Hell, let's get carried away. This is a Rocky film. Want us to ring the bell? Ding. Ding.
RATING: [rating stars="4″]