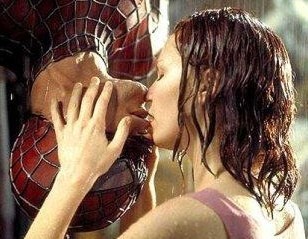 1. Spider-Man
– Karma Sutra Kiss
Rush of blood to the head… Spidey (Tobey Maguire) drops in for a dangling, lingering upside-down kiss with a rain-soaked MJ (Kirsten Dunst). Call it breathlessly romantic. "I was hanging upside down, it was five in the morning, rain was going up my nose or down my nose," remembers Maguire. "Then when she lifted the mask up, the mask was sitting on my nose so I couldn't breathe through my nose. She was kissing my mouth, so I couldn't breathe through my mouth. And there's no other places to breathe from! So I would have to suck air out of the corner of our mouths. And I still managed to derive some pleasure out of the scene…"
2. A History Of Violence
– Staircase Sex
Sex and violence collide as a savage domestic row explodes into savage sex on the staircase, as Viggo Mortensen and Naomi Watts discover their dark sides with fully clothed marital rutting. "It was intense and emotional and really difficult to do," admits Watts.
3. Sin City
– Meet Lucille
"All you need is a girl and a gun," quipped Godard. Gorgeously strobed with noir shadow as she slinks into a face-off with Marv, naked lesbian parole officer Lucille (Carla Guigno) proves a girl and a gun and a thong is undeniably better.
4. Batman Returns
– Purr-verse Pleasures
Pinning Batman on his back between her latex thighs, Michelle Pfeiffer's feline dominatrix leans in to lick his face like a bowl of cream. Hungry, hateful, perverse – it's some mistletoe kiss. Watch how Michael Keaton can't help tonguing his own lips afterwards.
5. X-Men 2
– Seduce And Destroy
Dressed like hooker on happy hour – all legs, heels and wraparound mini-skirt –  "Grace" (Rebecca Romijn-Stamos) gives Magneto's luckless security guard two mugs of beer, a fuck-me smile and some footsie before tugging off his trousers in the gents. "Velcro… nice."
6. The Mask
– Meet Cameron
"I think every director falls in love with her in some way," admitted Oliver Stone once. The Mask director Chuck Russell sure did. Slo-mo panning up 22-year-old Cameron Diaz's legs, through her cleavage and into a L'Oreal hair-toss, Russell was lucky not to get hit with a restraining order.
7. 300
– The Oracle
Smoke and silk clinging to her milky naked body, the beautiful Spartan prophet-girl used and abused by the deformed Ephors bucks and writhes in a doomed erotic fervour. Zack Snyder captured model Kelly Craig's ghost-dance by filming her underwater.
8. Barb Wire
– Wet'n'Wild
"One of my biggest worries was that I was going to fall out of the costumes," revealed Pamela Anderson. Tragically, Pammy suffers a wardrobe malfunction in the very opening scene. While being hosed down. In slow motion. For two minutes. Sopping wet melons. We're going to lie down now.
9. Transformers

– "Pop The Hood"
Megan Fox, in a halter top, bent over bonnet of a car. That's it. Whatever you say about Michael Bay, the man knows what the people want. Double-pump carburettor? "It squirts the fuel in so you can go faster." It certainly does.
AND THE FIVE UNSEXIEST CHARACTERS…
1. Vampirella (Talisa Soto, Vampirella)
Former Bond girl dresses up in joke-shop fetish gear to butcher Forrest J Ackerman's vampire heroine saga. Sucks.
2. Red Sonja (Brigette Nielsen, Red Sonja
)
"I tell my children, if they get on my bad side, they'll be forced to watch /Red Sonja/ 10 times in a row," says co-star Arnold Schwarzenegger.
3. Lois Lane (Margot Kidder, Superman
)
The poor man's Courteney Cox – if Courteney Cox spent her spare time squealing, cutting her hair off and hiding in nearby gardens.
4. Evey (Natalie Portman, V For Vendetta
a)
Question: when is a naked Natalie Portman not sexy? Answer: when she looks like a furry boiled egg.
5. Elektra (Jennifer Garner, Daredevil/Elektra
)
Another question: when are red-leather bodices, Jennifer Garner and knives not sexy? Two answers are acceptable.
Publication: Total Film