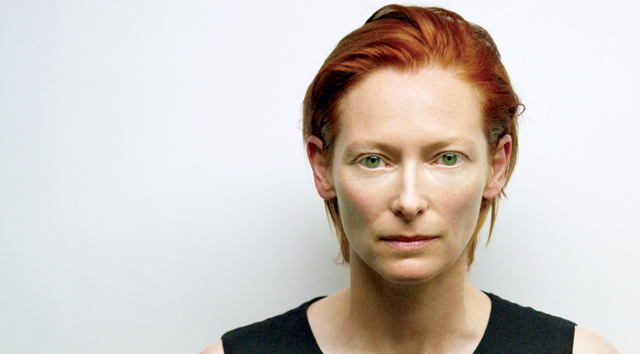 Even she can't believe it. "Is it? Wow…" Definitely. "Although on the other hand, it feels about 10." More like five. "Yeah… But maybe five." It's definitely five, five years since Tilda Swinton last stared into an i-D camera. Back then, back in 2003, we celebrated her as Britain's most unique icon of avant garde style: actress, artist, mother, model. The rest of the world has finally caught on. She was declared one of the 10 best dressed women in the world by Vanity Fair last year. She's starring on the cover of Italian Vogue. She was recently photographed by Juergen Teller at home in Scotland.
Cameras love Tilda Swinton – and she loves them back. Standing against a white screen as i-D photographer Alistair McClellen frames in on her face, it's little surprise to see Swinton taking charge of her own shoot. She decides on a striking double make-up contrast: one spare and stripped-down, one full and dramatic. "Would it help if I put my hand here?" she asks, scooping a flame of strawberry hair off her cheekbone. Of course, it does.
"It's one of the most enjoyable parts of what I do," she smiles, sitting down with us afterwards. "I love it. I mean, being photographed is what I do." Even after four hours in front of the mirror and the lens, she's relaxed and glinting with opinion. Tilda's used to it: people obsessing over her image. "But I would say, which image? Pick an image!" she laughs. "My work plays with image all the time. What my work is all about is transformation."
Well, quite. In a three-decade career of screen and style, Swinton has continued to morph with gripping unpredictability. Her new film, dark thriller Julia
, is different again. We first meet her rolling drunk in a bar, long hair flung everywhere, make-up blurred with sweat, sloshing her booze as she sways through a long, lost night before prising open her bloodshot eyes to a parched, sticky morning-after. Did we say icon of style?
"Although, she's super-glam," counters Swinton, green eyes widened. "I mean, what an incredible look. We all know that look. That's a look that we – I'm taking the liberty of dragging you in there now! – have always drawn on. That mangled trash-glam. What I like about it, as a look and a sensibility. is that you've got time in there. You're catching up with her four hours later when she's sweated off most of the make-up, the eyelashes are starting to come off and the mouth is smudged. You never see her newly prepared like the shoot that we just did. It was quite nice, in the context of Julia, to work with a completely unprepared face and a completely prepared face. The make-up we just worked with was absolutely fresh. I hadn't even moved my mouth. It was not lived-in at all. Whereas when you're working with a look like Julia's, it's got all that life going inside it."
Indeed, Swinton's performance thrashes with florid, uncertain life, as her 40something, booze-slurred character stumbles into a violent plot to kidnap a young boy. It's another remarkable transformation: vivid, daring and emotionally layered. "Dress up and play," says Swinton, plainly. "It's as simple as that. It's an extended version of what we're doing in there. Although in a way, that's slightly more sophisticated and tricky, because I'm actually dressed up as myself in there."
And here's the thing: Tilda Swinton, to some extent, could only be Tilda Swinton. Those fascinating otherworldly looks – alabaster skin, emerald eyes, that elongated frame – are a corporeal construct of fashion, art, design and performance in themselves. It's a knowing moment when one of the characters in Julia refers to her as a "big giraffe". Swinton nods rapidly. "Well, I mean, pretending will only get you so far," she admits. "There's some things you can't disguise. I can't disguise how high I am. I can't disguise my ankles. There's only so far I can pretend to be a short black man! Although I did fatten myself up for Julia, for this alcoholic puff. I'd already put on a fair bit of weight for a film called Michael Clayton
, because I wanted my character to have that sort of corporate sludge around her."
wasn't the film that won her a Best Supporting Actress Oscar earlier this year for her role as an amoral corporate lawyer. Don't remind her. Don't even mention the O-word. Swinton's face winces. "Oh no, I mean, that was absurd. It really was, literally, absurd. I went as a kind of tourist. But it's not unlike getting tickets to the final of Wimbledon and then being handed a racquet on centre court!"
Dressed in a black silk gown by Alber Elbaz for Lanvin which left one arm uncovered, a shellshocked Swinton picked up her Oscar with one of the most surreal, stream-of-consciousness acceptance speech in memory. "I don't know, I can't remember, don't tell me!" she begs, holding her head in her hands. Something to do with co-star George Clooney's nipples? "No, no, no!" she cuts in. "I honestly don't want to know what I said!" She looks up and sighs. At least, as is de rigour with Oscar-winning actresses, she didn't start crying. "Or vomiting!" she exclaims. "Everybody tells me I didn't actually vomit. But I can't remember a thing about it. I still have a complete amnesiac block about that. I mean, what a nightmare." Swinton calls it her reverse Zoolander moment. "I just… just assumed, I just assumed someone else's name had been read out," she recalls, shaking her head with a disbelieving smile. "But I didn't even think who. Somebody called Childa Minton. Then slowly, this tsunami rolled towards me…"
Better whisper it, then: people are starting to use the O-word again. There's buzz – a little, building slowly – that Swinton might score a second Oscar nomination for Julia. She grins sardonically, reminding us she gave the last one to her agent. "Well, I'm like, you know, a big old dose of whatever as far as I'm concerned." And if that phone call comes? "You never know, I might be washing my hair!"
No one's arguing: the fake-glitzy dazzle of the Academy Awards ceremony is a long, long way from where it all began – in '80s avant garde cinema, moshing in sexuality, politics and art with maverick hero-filmmaker Derek Jarman. But since Jarman's AID-related death in 1994, Swinton has pulled one hell of a trick: hopscotching freely and brilliantly between indie cinema and megastar Hollywood blockbusters. Somehow, since she graced i-D cover in 2003, the underground indie queen has taken rule in Tinseltown. "All the big studio films I've worked on have been experimental, I would say. They've felt like working with Derek on a Super-8 film. And why not in one year make a film with Bela Tarr and Disney and Jim Jarmusch and David Fincher and the Coen brothers? I mean, I should be so lucky. Meanwhile, I'm developing these other independent films. And meanwhile, I'm aware that it does not do Julia any harm that Burn After Reading
is No1 at the box-office or that Narnia makes a billion dollars. It's all good. It really is."
David Fincher's The Curious Case Of Benjamin Button
is next. And the Fight Club
director's story about a man (Brad Pitt) who ages backwards is an intriguing fit for Swinton, for whom so many films have zeroed in on immortal characters: the gender-bending nobleman who lives for 400 years in Orlando, the Angel Gabriel in comic-book actioner Constantine, The Chronicles Of Narnia
's White Witch. Swinton turns 48 this month. Do ideas of aging and mortality concern her? "If you're looking for theme-tunes that I'm in the process of humming, this whole issue of aging is particular interesting when you're in your 40s. I notice it and I'm interested in it. And to a certain extent I say bring it on. My brain hasn't started to atrophy just yet. I'm enjoying my life more than I ever did. It gets easier: my children are old enough now to understand what I do. Both their parents are artists and they get what that means. It means we're working all the time. Even when we're making the tea, we're working."
Family life became tabloid fodder in 2004, when Swinton began a relationship with a 29-year-old centaur while filming Naria in 2004. Since then, painter/actor Sandro Kopp has travelled with Swinton when she works – he's both partner and personal assistant – while the actress continues to live with John Byrne, her long-term partner of 18 years and father of her 10-year-old twins, Xavier and Honor. A life less ordinary? Not really, says Swinton. "An average day is that exotic mixture of getting up at 6am, making breakfast and taking my children to school," she smiles. "And coming back, trying to create some order in the house. And maybe picking some vegetables if it's that time. But then there'll be another day like today when I'm talking about a film."
And today is nearly over. Just enough time left for Swinton to visit the Barbican's exhibition of Dutch fashion visionaries Viktor and Rolf, who'd made an entire collection inspired by her when we last spoke, those five years ago. Swinton still wears their work ("They're so for the long term, those boys"), but recently another sculptural design duo have caught her eye. "I'm really into the Rodarte girls at the moment," she says, as we walk towards her car. "I think they're pretty incredible actually. It's a very natural thing for them to be positioned within an art context and within a movie context, as well. They're very in Hollyweird and they're very conscious of being in Hollyweird. And I'm really responding to that at the moment."
Easy to see why. Harder to imagine what next from a woman who once lay her sleeping in a glass case on public display for a week, has juried for international film festivals in Cannes, Venice, Sundance, and this year created her very own film fest in her small Scottish home-town. Lasting eight and a half days, 'The Ballerina Ballroom Cinema of Dreams' saw her unspool classic and rare films for the local community. Adults paid three pounds. Children paid in home-made cakes.
"I'm writing something at the moment that I may direct if no one else wants to," says Swinton. "It's all about watch this space. Morphing in and out. As I say, there are limits." She laughs. "One day I will be a small black man! But not quite yet. I'm trying." Another five years maybe. "Exactly… Well, there's an i-D cover!"
Publication: i-D