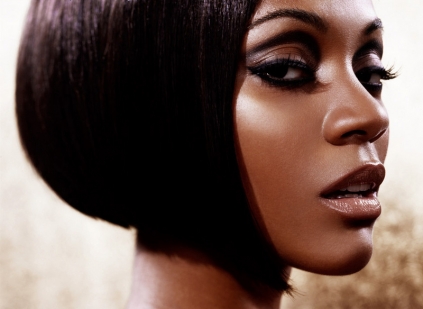 She's playing a Star Trek sex symbol and a 3D alien. But Zoe Saldana says it's okay to be a geek…
You're in Star Trek. So you're a geek, right?
I am actually! I'm very proud to say I am a geek. But I'm kind of a cool geek. I grew up in a very sci-fi home so I've seen a lot of sci-fi movies, from Dune to Alien, 2001, ET, Batteries Not Included… All these films I go crazy for. But never Star Trek.
Was that why you weren't sure whether to accept the role of Uhura?
Even though I've wanted to work with JJ Abrams, I was worried that it could have backfired on my career. But when JJ told me the kind of Star Trek he wanted to make, I wanted to be a Star Trek fan now. He writes amazing roles for women.
He wasn't afraid to put you in a very short skirt either…
Oh, no, no, no… He was not afraid at all! That was a combination of JJ and the costume designer wanting to keep the trendy '60s style of the original show.
How does it feel to be a sex symbol for Trekkies?
Oh God, I don't know! Now I'm a sex symbol for geeks? What have I done…
Any freaky moments with Trek fans?
Not yet, no… I'm very happy to say not yet. But I did have a driver that I had to spend the day with. And he opened his trunk of his black sedan and it was filled with Star Trek memorabilia.
That does sound a bit weird…
I don't go that crazy when I think about those sort of things happening at the time. But I'm thinking 'Okay, is this normal for a man to drive around in a sedan with Star Trek memorabilia in his trunk?' No. Freaky!
Who do you prefer, Kirk or Spock?
Oh God… It depends! I suppose it would have to be Spock for now.
So pointy ears are a bonus?
Hmm, I don't know… Maybe in the sequel, I wouldn't mind giving it a go with Kirk. He's has those dreamy blue eyes. He brings a very interesting, rebellious manliness to the part.
Is that the kind of guy you go for?
I tend to be very picky, so I look for the perfect man! So it Spock and Kirk can mix, they'd become my perfect man. That's the kind of guy I'd go for. I don't only go for muscles, I don't only go for brains. You just need to have a little bit of a bad boy and a geek and then you've got the perfect guy.
Easily pleased, then.
Well, it's not like you guys make it easy for us, either!
How do you chill out?
I've been resting a lot. I've been doing a lot of resting. And definitely catching up on my wine and my friends. That's crucial!
Are you playing an alien in James Cameron's new 3D sci-fi epic Avatar?
Yes. They're called the Naa'vi. I'm like the Princess Naa'vi. My character and Sam Worthington's character are caught in the middle of this huge war between this two planets.
Do you get to do much action?
It was nothing but that! I fell off a horse. I had a horse step on me. I was taking archery lessons. Training in martial arts. Learning a new language. For seven months, six days a week. I was loving it.
Cameron's keeping eveything very secret. What can you tell us about it?
The 3D motion capture looks totally real. It's crazy as hell and it's going to fucking make your palms sweat.
—
Publication: TheLondonPaper