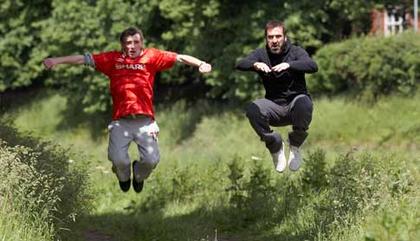 "I am not a man… I am Cantona." Scoring applause, laughs and hand-claps all the way through its screening, Brit filmmaker Ken Loach's contender for the Palme d'Or isn't the best film of Cannes 2009 but it's definitely the most beloved. Thank Man Utd's seagull-loving French talisman for that.
Like a bearded genie, Cantona himself magically appears in the unhappy life of frazzled postman called Eric (Steve Evets) to pep-talk his namesake with amusing gonzo philosophy ("Ee oo is afraid to throw ze dice will never throw a six") and wonder-goal montages (that chip against Sunderland still beggars belief). Beaming with sweary, salty humour, Loach's enjoyable comedy-drama miskicks when it switches tactics for an uncomfortably grim subplot about guns and crooks. But that at least provides the assist for him to smash home a crowd-pleasing finale that had the Cannes critics clapping right through the end credits. In off the post.
RATING: [rating stars="3″]
Read the original article at TheLondonPaper.