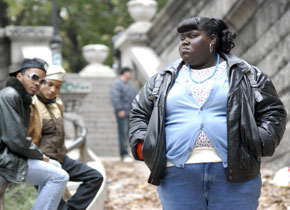 CANNES' HARSHEST FILM YET…
Precious is about an obese, illiterate 18-year-old black girl (Gabby Sidibe) from Harlem who's physically and physiologically abused by her mother, has been habitually raped by her father, has given birth to their first (mentally disabled) child and is pregnant with their second. Precious is not a comedy.
And somehow, that roll-call of harshness is just for starters in Lee Daniel's Sundance-hit drama. Several gasp-snatching scenes of domestic violence left critics frozen ashen-faced in their seats. Almost as big a shock arrives in the cast: Mariah Carey's utterly, utterly convincing performance as a welfare officer. Dowdy, world-weary and street-savvy, she couldn't be more perfect in her short role. Glitter, be gone.   
Boasting strong performances and lightened by a few flashes of much-needed easy humour, Precious is let down by Daniels' ropey direction – which leaves you feeling like it could/should have been a much better film. But then comes the absolute gut-punch of a final monologue. You thought things couldn't get any worse? Think again. Check out Push, the book it's based on, if you sick puppies just can't wait for this one.
Elsewhere in Cannes, Francis Ford Coppola and Jane Campion became chairmen of the bored as their latest movie-films failed to wow.
Starring loopy artiste Vincent Gallo and Leo-lookee-like Alden Ehrenreich as two brothers reunited in Buenos Aires, Coppola's self-involved family drama Tetro feels like the filmmaker's attempt to recapture his youthful for appetite for moviemaking and art. Which makes Tetro sound a lot better than it is.
Shot in self-conscious Euro-arty monochrome that looks lovely but just doesn't work the way it did when Coppola tried it in Rumble Fish and The Outsiders, Tetro feels like it could have been directed by Gallo rather than the Hollywood godfather. So it's a little sad to say that, for all its problems, Tetro is still probably Coppola's best film in years.
Some 16 years ago, Campion won the Palm d'Or with The Piano. In Bright Star. she aims for a very different kind of period drama: restrained, literary, quiet and minus an arse-nekkid Harvey Keitel.  Abbie Cornish and Ben Whishaw are both great in the doomed love affair between struggling Romantic poet John Keats and his seamstress neighbour Fanny Brawne. But for all the exquisite cinematography and fine performances, Bright Star remains curiously unaffecting. Could an arse-nekkid Harvey Keitel have improved things? We'll never know. 
Next up?
A nice chat with Mariah Carey. Never, ever, thought we 'd say that in a Cannes blog. Plus a first screening on the hotly anticipated Korean killer-thriller Mother by The Host director Bong Joon-ho.
Read the original article at Little White Lies.