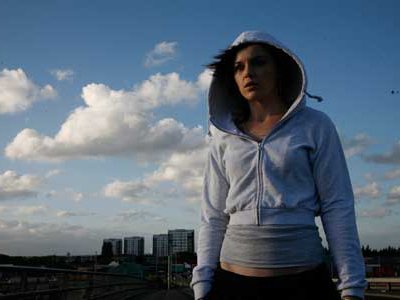 PALME D'OR WINNER ALREADY?
That didn't take long. Just 24 hours after Pixar's heartmelting 3D 'toon Up threw back the curtain, the world's biggest film festival has already revealed its second Very Special Film. She won an Oscar in 2003 for her short film Wasp. She won the Cannes Jury Prize in 2006 for Red Road. She's just became front-runner for this year's Palme d'Or. Best of all? She's one of ours.
Brit writer/director Andrea Arnold's Fish Tank is a Dardennes-style drama bang out of the top drawer. Powerful, punishing, funny and beautifully observed, it's driven by a stunning performance from non-pro newcomer Katie Jarvis as an angsty 15-year-old Essex chav who dreams of becoming a hip-hop dancer.
Rudely kicking off with swearing, cider-drinking, aggro and angst, Fish Tank kicks in as Mia finds herself drawn towards her single mum's new boyfriend (the tremendous Michael Fassbender). Trapped in claustrophobic council-estate flats and lost in beautiful wide open spaces as growing pains and sexual heat start throbbing hard, Jarvis makes like an Essex skank version of Evan Rachel Wood. Yes, that's a compliment. Big one. Fassbender, once again, is effortlessly charismatic. And Arnold's spiky naturalism and subtly artful direction is a thrill – filmmaking of highest calibre and absolutely the best film of the festival so far.
"You're staying to the end, aren't you?" Arnold asked LWLies, when we chatted together today. "I'm going back to London tomorrow – see you there!" It's a date. But Arnold may be back quicker than she thought if Fish Tank bags the Palme d'Or. Still, the festival's big guns – Von Trier, Haneke, Gaspar Noe – are still yet to pull the trigger on their contenders. In fact, LWLies overheard that Irreversible provocateur Noe is still working on his film, a sure-to-be-very-harsh-indeed nightmare-drama set in Tokyo's neon megalopolis.
Oh, any Twilight fans out there? Right. All of you. Well, Korean vampires don't have big hair and teen angst. Spurting with red blood and none-more-black humour, Oldboy director Park Chan-wook's vamp-romance Thirst turned out to be one of the most deliciously skewed incisions into the blood-sucker subgenre. It's also way too long. Off to a gooey body-horror beginning as a guilt-wracked priest finds himself transforming into a vampire, Thirst spins out of control in a squiggly central third before rediscovering itself for a fantastic final half hour. But through it all – the sex (weird), the claret-slurping (through a straw), the stabby-bitey violence (lots) – Park's arterial black-comedy never loses its big, bloody-fanged grin. Look out for a chat with Park right here, very soon…
Read the original article at Little White Lies.