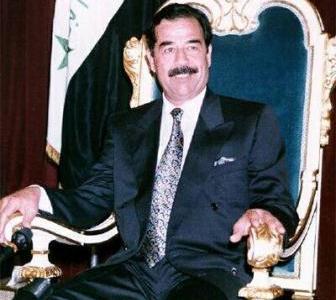 Saddam Hussein wakes at about 3am and takes a swim. His back hurts and the swimming helps. You'd never know he has a slipped disc because he never shows his limp. You'd never know he has grey hair because he dyes it black. You'd never know he needs reading glasses because his aides print his speeches in huge letters, just a few lines on each page.
Saddam sleeps for only four or five hours. Because when he sleeps, he shuts his eyes. And when he shuts his eyes, he has to trust those around him. And that is the one thing the Great Uncle cannot do.
"I think that was the most single most fascinating, destructive thing about him," says Alex Holmes, director of four-part HBO/BBC Two drama House Of Saddam. "Saddam had a complete incapacity to trust anyone. And the closer somebody was to him, the more fearful he was of them." Built on two years of research and interviews, Holmes' uniquely intimate portrait of Saddam's inner circle of family and confidantes paints an operatic true-life drama. "We spoke to people who'd been in government with him, right through to members of his staff, cooks, a cleaner, members of his security details," says Holmes. "And Saddam emerged as a far more complex, more shocking individual. Born into incredible poverty, he overcame his sense of his own inadequacy by determining never to be in a weak position. This is what motivated so much of his brutality."
Unlocking the doors to Saddam's inner circle to find a violent family drama of power, ambition, betrayal and fear, House Of Saddam was been dubbed 'The Sopranos
in Iraq'. It's a sweet sell, but a cleaner fit is The Godfather
. Saddam loved the saga. Easy to see why: Don Vito Corleone is a patriarch who builds a mighty family empire from nothing, driven on by ruthlessness and fate. "With the importance of family alongside power and politics, there's a direct parallel between Saddam's regime and a Mafia organisation," explains Holmes. "His brothers, his uncles and his cousins were really the core of his regime because he thought these were the people he could trust."
Men like Saddam's youngest half-brother (La Haine
's Said Taghmaoui), head of the notorious state-security system, feared for its use of torture and assassination. 'Chemical Ali' (The Kingdom
's Uri Gavriel) was Saddam's other half-brother, who slaughtered up to 200,000 Kurds using poisonous gas. Saddam's nephew Hussein Kamel (Syriana
's Amr Waked) married his favourite daughter and created the Great Uncle's personal guard.
But if those walking the corridors of the House Of Saddam thought they were safer than the thousands of Iraqis being murdered in the streets, they were wrong.  "The trouble with Saddam was, by definition, the people he thought were most dangerous to him were those closest to him," says Holmes. "They knew where his weaknesses were, so they became the greatest threat. Often, the most horrific things were what Saddam could do to inner circle. This was a man who had the power of life and death over those around him as well as the Iraqi population."
And so it went for Hussain Kamel, killed after defecting then returning to Saddam's family. "The murder of his brother-in-law was shocking – this was a man who he had actually grown up with. They'd shared the same household, they'd spent their entire childhood together. And yet, for political reasons, he was prepared to have him killed. That was scary, this ruthless commitment that nothing should be allowed to threaten his dream of greatness."
For Saddam, weakness was something to be abhorred and violently amputated. Saddam's palaces – and there were more than 20 of them – flowed with fountains, pools and in-door streams. In the desert country of Iraq, water is a symbol of power. As Saddam's daily paranoia grew, blood flowed just as freely.
After suffering early losses in the war with Iran, Saddam asked his ministers for advice. Health Minister Riyadh Ibrahim suggested Saddam temporarily step down to encourage peace negotiations. Bits of Ibrahim's dismembered body were delivered to his wife the next day. When one of his generals was overhead bad-mouthing the dictator, a simple execution was deemed too lenient. Before killing him, Saddam had his tongue be cut out, his son executed, his home bulldozed and his wife and other children left on the street.
"Not only this, but Saddam prided himself on his ability to carry out the violence himself," explains Holmes. "In some ways, this was the core of his success. He was a man willing to do what others flinched from." When he seized power in 1979, Saddam forced top party members to help execute more than 20 of their 'traitor' colleagues. When it came to Adnan Hamdani, the official who had been his close friend for the last decade, Saddam pulled the trigger himself. Having done so, he then visited Hamdani's family and paid his sincere condolences. Condolences, not apologies. The distinction was clear.
His son Uday once boasted that he and his brother Qusay had been taken to prisons by their father to witness executions and torture to toughen them up for "the difficult tasks ahead". Sure enough, if there was one member of Saddam's house who was feared more than the dictator, it was Uday. Saddam's eldest son was a sadistic madman: vicious, drunken, narcissistic, a terrifying walking parody of his father's id. Saddam tolerated him until he murdered one of the Great Uncle's top aides at a party. Uday immediately tried to kill himself with sleeping pills. As his stomach was being pumped, Saddam stormed into the emergency room, pushed aside the doctors and struck Uday in the face, shouting "Your blood will flow like my friend's!"
But Saddam would rarely raise his voice when speaking to those close to him, always polite, always calm. "I lost count of the number of people who told me Saddam had a very special relationship with them," says Holmes. "'He trusted me', 'I was the one who could tell him the truth'; 'No one else to speak to him like I could'… After you've heard that four or five times, you start to think, clearly, this was one of his skills: he had this capacity to make the person who he was focused on feel special."
Saddam had been married for three decades to his wife Sajida (played by House Of Sand And Fog
's Shohreh Aghdashloo). Saddam gave her million-dollar shopping sprees and beautiful clothes. She remained loyal – despite her husband's relationships with other women. As ever with Saddam, there are stories. Stories that he took virgins to his bed each night. That he even had one young woman killed after a decadent affair. Everyone knew about Samira (played by Casualty
's Christine Stephen-Daly), his long-time mistress and future wife. Not least her husband.
But no one – not his wives, his sons or his aides – knew what Saddam was thinking. "Because his perspective was far longer than the average human perspective on historical events," says Holmes. "He liked to dream about what his regime would look like in 300 years time. But it wasn't to be…"
The Godfather trilogy is really the tragic story of Vito Corleone's son, whose paranoid obsession with power destroys him as he murders his own brother and ends up isolated, trapped and alone. Impossible to know whether Saddam appreciated the irony, as lay back in alone bed, staring at the books about Joseph Stalin that lined the walls.
Publication: ShortList