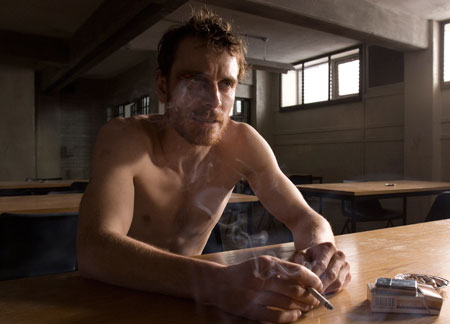 Bloody knuckles clenched in scalding water. Cigarette smoke drifting through snowflakes. Rivers of urine scraped down a stone corridor. Shit-swirls smeared on the walls. Sights, sounds and senses are what give Hunger
its incredible visceral impact, as artist-turned-filmmaker Steve McQueen's audacious debut slams us in headfirst. Maze prison. Circa 1982. IRA prisoners attempting to force the Thatcher government to grant them status as political prisoners not terrorists…
Trembling silences, brutal violence, both arrive with a harrowing sensory immediacy that shuts out any political or historical framing. Never losing control of the poetry and purpose in his arty rigor, McQueen gives us a prison guard as a guide through the infernal daily cycle of paranoia, ragged beatings and naked bodies before introducing us to 27-year-old detainee Bobby Sands (Michael Fassbender).
Near wordless till the half-way mark, the film stops dead for its single, gripping scene of dialogue: an unbroken, unforgettable 20-minute shot in which a chain-smoking Catholic priest (Liam Cunningham) tries to convince Sands to abort his hunger strike. He fails. Silence resumes. And Fassbender's extraordinary performance takes hold. Charismatically laying his case on the table, the Brit actor reveals a shocking real-life emaciation as Sands starves slowly to death, slipping towards agonised martyrdom as fried breakfasts and cups of hot coffee steam away beside his bed.
Stark, stylish and immersive, McQueen's film is often hard to watch and constantly riveting. No filmmaker in the world has made such an extraordinary debut movie in years. More importantly, try thinking of the last time a British director uncorked anything half this good. Anyone who doesn't do a dance about it simply doesn't like cinema. Worth mentioning, too: who have thought we'd ever see Fassbender in a movie directed by Steve McQueen?
RATING: [rating stars="5″]
EXTRAS: [rating stars="1″]