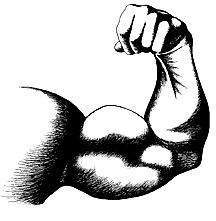 Exploring the brawny goings-on when you load up with gun-powder…
1. Rip and burn
Eight… nine… 10! You've hammered through your weights session, your arms are screaming. "Hefting heavy weights causes tiny rips in your muscles, activating the chance of growth, as the cells try to avoid the risk of repeat damage," says sports scientist Christian Finn. During the 15 – to 30 – minutes after your workout, your muscles are in their optimum state for growth. They need amino acids – the blighters that rebuild damaged muscle. Your protein shake is frothing with 'em. Down it!
2. The need for speed
"Most protein shakes are made of whey or soy," says performance nutritionist Becky Stevenson, who works with elite athletes in London. "They're much of a muchness: both have been broken down during manufacturing so it can be rapidly absorbed into your blood and rushed to your muscles." Milk protein, however, moves through you slower than a wounded snail, which is why you should always mix with water. You only need 200mls, unless you like feeling bloated. And sorry, mixing with vodka won't work.
3. Carb bomb
It's not just protein surging through your blood to your muscles right now. Read the label on your protein tub: you'll notice it's full of carbs. Don't panic! These are muscle-building friends, not foes. "'Protein' shakes are actually 'carb-and-protein' shakes," says Stevenson. "The carbs in your shakes are vital fuel for muscle-building. If you don't have enough carbs, your body will eat into the muscle you already have for fuel. Without carbs, you can't build muscle!" Okay, you can stop reading the label now.
4. Measure for measure
Breaking down and soaking up this dense shake is a tough ol' job for your body – and your kidneys take the strain, processing everything that goes through your body. OD-ing on protein shakes won't damage them, but it won't build extra muscle either. "Excessive protein is stored as fat or excreted by your kidneys not used to build muscle," says Stevenson. You only need one gram of protein per pound of body weight every day, so use the shakes as a supplement not a replacement for your meals.
5. Sound the trumpet
Whoops. What that the dog again? Let's be honest: protein shakes can cause flatulence. "No scientific studies have been made into why this is," says Stevenson, seriously. "One theory is that the glucose in shake feeds bacteria in your gut, causing more fermentation." Causing the dog to fart a lot. A less entertaining side-effect can be dehydration. "Possibly because water is needed to digest such a concentrated drink and your body's using fluid to digest rather than rehydrate," says Stevenson. Or you're mixing it with vodka. Stop that!
6. Greed is good
About an hour after your workout, the rebuilding work fuelled by your protein shake starts to slow – so keep it firing by backing up your shake with a meal of protein and carbs. "Your body keeps turning protein into muscle for at least 24 hours after your workout, so keep eating every 2-3 hours," says Finn. Stevenson adds: "If your training plan and nutrition plan is right, the boost from your shake will see you start to add muscle gains within 6-8 weeks." Good work – now don't spoil it by wearing tight T-shirts when you're training. This is the gym. Not Flashdance.
Publication: Men's Health.