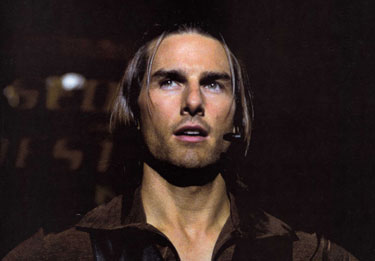 When it rains, it pours. Cancer, biblical plagues, child geniuses, incest, junkies, murder, gay obsession, gameshow trauma… Overspilling with untethered ambition and a reckless true love of acting and filmmaking, Magnolia steamrollered one major question-mark that hung over the 30-year-old whizkid behind disco-porn showstopper Boogie Nights
. How do you follow up a sprawling multi-character epic that's seen you compared to a latter-day fusion of Altman and Scorsese? If you're Paul Thomas Anderson, you do it again. Bigger. Longer. And with frogs.
No argument: his three-hour-plus kaleidoscope is bigger, way bigger, than life. But inside it sits a tiny bittersweet truth ("You'll have to be nicer to me"), one that never feels trite. Why? Because like so few modern Hollywood filmmakers raised by VCR, Anderson loves his characters more than his camera – his heat-seeking visual style zeroes in on them every time. "I'm a product of growing up on movies," he once said. "But when the movies betray you and haven't taught you how to feel something – for instance, if someone in your life dies – it's flabbergasting."
Anderson serves up exactly this: movie scenes that tremble with thrilling uncertainty and full-throttle feeling. Hyperbolic ("I've sucked other men's cocks!"), funny ("I will drop-kick those fucking dogs"), mournful ("I have so much love… I just don't know where to put it") and electrifying ("I'm quietly judging you"), the script sets eleven lost children, dying fathers and searching hearts spiraling towards each other on high-velocity emotional trajectories. Oscar-nommed Tom Cruise and the rest of Magnolia's remarkable cast run full-tilt into their custom-fitted roles, even through seduction destruction, Aimee Mann and cosmic downpour.
Chancing an audacious, earnest gamble on human hope, Anderson makes magic from this maelstrom. And when the rain stops, Magnolia moves in an instant from cryptic murk to clear daylight, blooming at last on the most perfect final shot imaginable.
RATING: [rating stars="5″]
Publication: Total Film