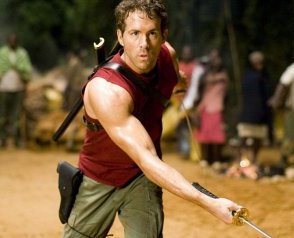 Super healing, adamantium and brute strength. Sound familiar? Ryan Reynolds talks Deadpool, Wolverine's ultimate nemesis and X-Men Origins' coolest new mutant…
Comic-book fans are fat. They don't get up at 6am for a punishing daily regime of ab crunches and bench presses. They can't swing two swords with surgical precision. They're not married to Scarlett Johansson. Someone forget to tell Ryan Reynolds.
"I'm definitely a huge fan of the Deadpool comic
," he tells Total Film, when we ask the X-Men: Origins star about his secret nerd-herd membership. "I remember when I was younger, I found one that I was actually mentioned in. Yeah! He said that he looks a lot like a Shar-pei crossed with Ryan Reynolds. I thought that was just the coolest thing that had ever happened."
No surprise, then, that the 31-year-old Canadian was director Gavin Hood's the first and only choice for the mutant who could be Wolverine's toughest ever opponent. "Deadpool is impervious to injury," nods Reynolds.  "He has super-healing ability and adamantium coursing through his blood stream. And yes, he has blades coming out of his hands too." Deadpool is like Wolverine looking in a mirror. Or rather, being hit over the head with one.
Wolverine's origin story tracks Hugh Jackman's Logan back to his bestial birth in Major Stryker's (Danny Huston as a young Brian Cox) Weapons X supersoldier program. And that's exactly where we meet mercenary Wade Wilson, aka Deadpool. In a desperate attempt to survive the cancer that's killing him – in the comic-book, at least – Wilson volunteers to have his mind and body genetically mutated using the same DNA as a certain hairy former Weapons X experiment.
Two major differences, mind. One: People magazine won't be voting this guy 'Sexist Man Of The Year'. Thanks to his cancer warping the genetic process, Deadpool becomes horribly scarred ("There's no CG scars, it's all practical"). Two: Deadpool is nuts. The same cancerous side-effects cause Deadpool's brain to constantly re-write itself, making him mentally unstable. Doesn't matter. He only has one mission. "To hunt down Wolverine," reveals Reynolds. "He's on autopilot: search and destroy. At the beginning, he and Wolverine have a contentious relationship, but that evolves into something much darker by the end of the film."
Presumably, then, we're about to see Wolverine go head-to-head with… himself? "I think you will," teases Reynolds. "You'll have to wait and see. But I think you'll get to see Wolverine go head to head with just about everybody!" True, there are plenty of mutated new faces in X-Men Origins: Wolverine: Wolvie's half-brother Sabertooth (Liev Schrieber),card-chucking thief Gambit (Taylor Kitsch), electric energiser Barnell Bohusk (Dominic Monaghan), teleporter Wraith (Will I Am), blubbery boxer The Blob (Kevin Durand) and more.
No wonder Hugh Jackman has been waking up at 4am to eat protein and hit the gym. That's a lot of alpha-male testosterone for one movie. "There's always a pretty odd dynamic when you get a lot of strong personalities in a room together," says Reynolds. "But Hugh Jackman is as graceful and as classy and as generous as any one of the greats." He thinks for a second. "But yeah, he's a huge boy! Although I'd still say that the most surprising thing about Hugh Jackman is not his physique, it's his strength of character. That's why he's so fantastic as Wolverine."
Thing is, Deadpool doesn't just have Wolverine's strength and super-healing. He's got his smart mouth, too.  "Deadpool's primary function is his mouth," grins Reynolds. "In fact, they call him 'The Merc With The Mouth'. I loved that I really get to run off with the mouth with these mutants that are incredibly serious. He definitely has some witty lines."
If the zingers don't do the damage, the swords will. Deadpool will shoot someone if he's in a hurry. But he'd rather use the twin blades on his back. "I trained for months to master the swordwork," says Reynolds. "So he's obviously a master swordsman but he's also an accomplished fighter." Fighting style? "Pretty much all of them! There's martial arts, weaponry, everything. He's a guy you don't want to mess with. Certainly not after he's been pseudo-immortalised."
As ever, that's not a stuntman on screen, that's Reynolds. "There's something pretty exciting about having two katana swords spinning around your body at 100mph and know that you're not going to take your ear off. Or at least hoping!" No nasty accidents, then? "I clipped myself in a lot of ways that I'll never forget! I think it's the most precise role I've ever done. Because this character is like a surgeon with these swords. I've got to be so good with these swords that I put peoples jaws on the floor."
Like one-time possible director Zack Snyder, scripter David Benioff wanted Wolverine to be an R but producer Hugh Jackman persuaded him to soften his screenplay to PG-13. Reynolds is surprised. "As near as I can tell, it's brutal," he confirms. "It's pretty violent. You're not going to see Kill Bill-style blood geysering up from recently severed heads! But I think you're going to see a kind of violence that's a little more brutal, rugged and ugly. Which is one of the things I liked about it."
Brutal violence is good. Swords are good. But invulnerability is best. In fact, it's probably Hollywood's favourite superpower. The fact that Deadpool has even been known to rise from the dead makes him a particularly useful franchise character.
Back a few years when Reynolds was farting garlic and decimating vampires in Blade: Trinity
, there was big talk of David S Goyer directing in a standalone Deadpool movie. "There was briefly, yeah, there definitely was," recalls Reynolds. "But I think you'd be hard pressed to find any major comic book commodity that hasn't been associated with David Goyer."
So are there glinting plans to finally give Deadpool his own spinoff in the Origins series? "You know, I have no idea," admits Reynolds. "I've always loved the character. I think if they to find a way to create a Deadpool that's incredibly true to the origins of the comic book then I'd love that. This story is more the humble beginnings of Deadpool. But if he were to evolve into the character from the comic books that I know and love, then I'd doing anything to play that guy."
In the comics, Deadpool has perhaps the most remarkable mutant power of all. He knows he's inside a comic-book. This guy busts through the fourth wall like crepe paper. When told he'll have to fight The Hulk to obtain his DNA, Deadpool starts singing the theme song for the '60 Hulk cartoon. He'll give readers a story recap ("Isn't it cool how quickly we get to the story when we only have 12 pages?"). Ponder if he "still thinks in those little yellow boxes". Or even make fun of Marvel's financial troubles ("Where were you when I bought all that stock in Marvel Comics?").
Will Reynold's Deadpool be turning to the camera for a wink and a nudge? Not a chance. "The only broken walls are when people are being thrown through them."
Publication: Total Film.