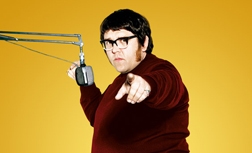 Soaring from Spaced to Spielberg: on board with the star of The Boat That Rocked and Tintin…
What are you up to in The Boat That Rocked
?
Well, I play the part of Dr Dave. He's not a doctor. He's a DJ. And he doesn't have a surname. Maybe Dave is his surname. He's a bit of a north-sea swordsman, so to speak.
Who are you 'jousting' with?
I manage to sleep with Gemma Arterton from the last Bond film. So that's me, Mackenzie Crook and Daniel Craig who've all slept with Gemma Arterton in the last 12 months.
But you didn't enjoy, though, right?
Oh, Christ no. No. It was the one of the most… amazing days of my life. No! I mean… Yeah, it's just work. It's very unromantic. Although I can't really say the words 'Gemma Arterton' around  my wife.
You have amazing sideburns in the film. Are they real?
Thank you. They are real. I'm a good beard grower. It's always been , ever since I've been a young child, it's always been a thing I could do. Mine are very red, though, because my parents are Celtic.
Were you 'the funny kid' at school?
You know what, I was, but if you spoke to any of my teachers… You ever watch Summer Heights High
? There's a character called Jonah Takalua, who's a bit of a waster and  'tills all the tichers to fack orf, eh?' I was like that kid. I was a bit naughty.
Did you get in a lot of trouble?
Well, what saved me, I think, was rugby, I played a lot of rugby and I was very good at it. So I think they let me off a little bit, because I was actually quite good for the school.
Is it hard to believe you used to be a waiter?
Absolutely. It's only…What am I? 36. I only stopping being a waiter for seven years now. So, it is weird. But there's only so many times you can get away with thinking, 'God, this is amazing!' before you just have to think, 'Fuck it, this is my job', you know?
Is it true you invented Mike, your character in Spaced
?
Yeah, I did. It was a character I did for Simon, just to amuse him. But originally he was a lot older and he was actually a proper violent killer. He knew a million techniques how to murder someone.
Like what?
Just weird, weird deaths. Involving ants. And Tizer. And Simon used to really like it. So he and Jess got Spaced commissioned and he said, 'Do you fancy doing it?' And I never thought that it would actually happen.
Do you ever watch Spaced these days?
Never… I think the closest I'll get to trawling my old work is looking at Man Stroke Woman
sketches on YouTube. I think it was quite an underrated show – more people should have seen it.
Is it weird seeing your old mate Simon in blockbusters like Star Trek?
No, not really… I think I'd enjoy them more if I didn't know him. Because I just look at him and think, 'Oh, he looks a bit tired' because I know every single part of him.
Are you and Simon working on something new?
We've just finished writing our next film, which is called Paul. Two British comic-book geeks – I think we can use the word geek now –  drive to Area 51, where they find an actual alien. And he pleads with them to help him get home, so the three of them embark on a road trip together.
What was it like when Steven Spielberg cast you both in Tintin?
It was amazing. He was fucking Steven Spielberg, you know? The thing about Hot Fuzz
and Shaun Of The Dead
is, the Americans love it. If anything it's bigger there than it is here. So it has opened a lot of doors.
Why do you think Spielberg cast you?
I don't know… Maybe James Corden and Matt Horn weren't available! I think he's a fan. We're massive fans of his. We've written him a cameo in Paul so hopefully he's going to be on side enough to want to do it.
Lots of the characters you play love guns. Do you?
I'm a big fan of guns. I know some people will think I've lost my mind, but there's something very horny about them. The smell. The way they rattle when you run with them. And of course the way they bang when you finger it. Ahem, I'm here all week… Try the veal.