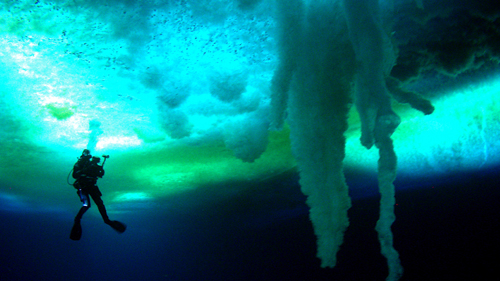 Werner Herzog doesn't like March of the Penguins
. Cinema's metaphysical Tarzan, as critic Pauline Kael dubbed him, has more pressing questions. Like, are penguins gay?
After Amazonian jungles (Aguirre, Fitzcarraldo
), Aussie outback (Where The Green Ants Dream), Kuwait oil fields (Lessons Of Darkness) and Alaskan grizzly-lands (Grizzly Man
) and beyond, Herzog ventures as far from civilisation as you can get. But at the McMurdo Research Station in Antarctica, he still finds a remarkable fistful of oddball loners and obsessives.
A pipe-fitter who claims to be descended from Aztec Kings because his second and third fingers are the same length. A former banker who drives a huge vehicle called Ivan The Terra Bus. A female traveller who likes to zip herself up in a piece of hand-luggage.
These are Herzog's people: freaks and geeks who can't live in normal civilisation. But still, the German is irritated by the fact that Antarctica's "seemingly endless void" has an ATM and a bowling alley. He's not one for "tree huggers" or "whale huggers". He complains the sun is bad for his skin.
Herzog is much happier when he learns there's a "horrible, violent world" beneath the ice, filled with creatures too small to be see, too savage to comprehend. Leaving the "abomination" of McMurdo, his documentary captures the awe-inspiring vastness and strangeness of this eerie water-world below.
But that title is no pun. "White-out training" sees wannabe explorers tottering aimlessly through the snow with buckets over their heads. He grills a baffled animal behaviourist about "demented penguins" and "penguin prostitution".
Then it happens. Herzog spots one tiny, irrational bird waddling determinedly off in the wrong direction. It grows smaller and smaller, disappearing into Antarctica's sprawling oblivion. Herzog lets the camera run. And slapstick comedy slowly melts into haunting realisation.
It's not a penguin. It's Klaus Kinski. It's Timothy Treadwell. It's us.


IN SHORT
Too loose and aimless to sit with Herzog's best, Encounters drifts along on its filmmaker's frostbitten humour and his ever-searching eye for weirdness and wonder. When David Attenborough retires, we're voting for Herzog.
RATING: [rating stars="3″]
Certificate: 15
Director: Werner Herzog
Starring: Werner Herzog, Henry Kaiser, Ryan Andrew Evans
Screenplay: Werner Herzog
Running time: 99 mins
Read the original article at Total Film.