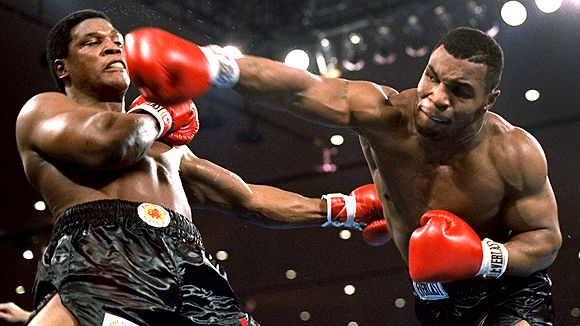 "My whole life has been a waste. I just want to escape. I'm really embarrassed with myself and my life." With those words, the phenomenon who remains the youngest ever heavyweight champion of the world retired from boxing in 2005. Overweight. Bankrupt. Beaten. Lost.
What had happened? In Jame's Toback's documentary
, Mike Tyson sits in front of the camera and asks himself exactly that question, weighing up the last 40 years of his life: bullied childhood, criminal career, pugilistic passions, splintered emotions, lost father figures, sexual hunger, manipulative women, bad choices, worse friends, that rape conviction…
Naked, brutally honest catharsis pours out from the man who began life as a fatherless, lisping, pigeon-loving street kid. In the film's most staggeringly intimate moments, it suddenly becomes clear: Tyson still is that boy. At times, he's left choking on words and tears. And so are we.
Aside from split-screens of Tyson's face – a nod to his fractured psyche – Toback's doc is surprisingly unimaginative and artless. He skips past home-movie footage of Tyson being raised like a son – but really as a pure boxing machine – by trainer Cus D'Amato. He shoehorns in clips from Tyson's career of devastating KOs. But it's Tyson's talk that rings in your ears.
He reveals why it took him just six minutes to obliterate opponent Tervor Berbick to win his first title: he was in agony from gonorrhea. He shows us why he chewed a chunk out of Evander Holyfield's right ear: he was about to black out from Holyfield's illegal head-butts.
There's more. There's also a lot missing. Too much. Why was his rape-trial defence botched so badly? What happened in prison? What does he really think about parasitic duo Don King and Robin Given? Maybe Tyson just doesn't care. Toback never asks. This is Mike's show. And the ex-champ shows himself no mercy: smashing through his bestial reputation to reveal a tortured, vulnerable human being still struggling to understand his own flaws.
IN SHORT
Not the full story – not even close – but this is 'Iron' Mike Tyson as you've never seen him before. One of the most devastatingly personal on-camera confessionals ever put on screen.
RATING: [rating stars="4″]
Certificate: 15
Director: James Toback
Starring: Mike Tyson
Screenplay: James Toback
Distributor: Revolver
Running time: 90 mins
Read the original article at TotalFilm.com.