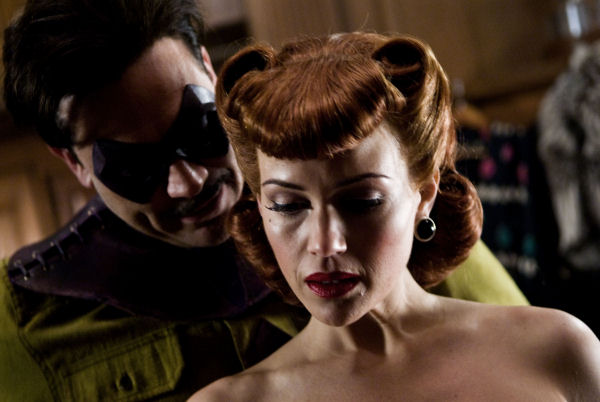 Would it ever arrive? Or miss us completely? Travelling towards us with the agonising speed of a incoming meteor we've stared at for fully 23 years, Watchmen
finally hits the screen as something fanboys could only have dreamed of: a labour-of-love epic, stylish, adult and very, very faithful.
From the opening strum of Bob Dylan's 'The Times They Are A-Changin", director Zack Snyder's adaptation of Alan Moore's unforgettable graphic novel
is a comic-book movie like no other. Instantly head-locking our attention, his brilliant opening montage effortlessly introduces a very different version of the 20th century: masked men in Halloween outfits arrest criminals before being outlawed, sectioned and murdered; a stark-naked blue demi-god helps America win the Vietnam war and greets astronauts the moon; JFK is killed by a cigar-chomping mercenary behind the picket fence; Nixon remains US president and the world teeters on the brink of nuclear war.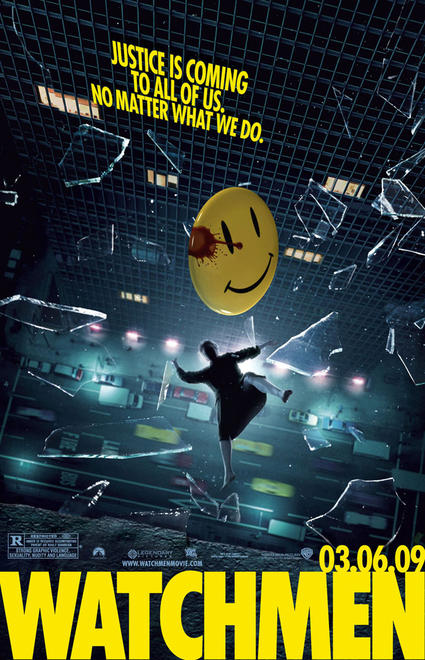 It's deft, startling and maybe the finest sequence in the film. Weirdly, Watchmen handed Snyder the polar-opposite problem to the one he solved in adapting Frank Miller's throwaway Spartan battle-royale 300
: too much story instead of not enough. Cross-cutting between flashbacks that zing from the '40s to the '80s, multiple characters and story-strands that phase from Earth to Mars, Snyder unpacks an unwieldy on-screen narrative that's actually nothing like a superhero flick. It's a PT Anderson drama in a mask: an ensemble of Hollywood's leading character-actors playing soul-sick characters locked in mortal combat with their traumatic pasts.
Stan Lee was wrong: with great power comes great loneliness. Even behind a luminous layer of CG muscle, Billy Crudup's beautifully subtle performance hides electric flickers of pain in the impassive face of quantum superman Dr Manhattan. Grey's Anatomy
star Jeffrey Dean Morgan finds sympathy for the devil in his amoral sociopath The Comedian, seen raping and murdering his way through three decades.
Brit fop Matthew Goode initially looks too weak to play Adrian Veidt, aka millionaire mystery-man Ozymandias, but he grows with arrogant assurance inside his role as "the smartest man in the world". Little Children
's Patrick Wilson is nervy and bruised as Dan Dreiberg, who used to fight crime as Batman-a-like Nite Owl but now battles impotence instead.
Admittedly, Malin Akerman's Silk Spectre – caught in an insane love triangle between Manhattan and Dreiberg – makes less impact than her queen-bee latex fetish costume, inherited from her superhero mother (Carla Gugino). But it's Wilson's Little Children co-star Jackie Earle Haley who really wows, nailing the sadistic self-hatred as fascinatingly twisted detective Rorschach. "None of you understand," he growls after sending a shiv-wielding jailbird to a truly horrific death. "I'm not locked up in here with you. You're locked up in here with me!"
That's one reason Watchmen is so impressive – you can feel the level of love and the lack of compromise. Alan Moore's graphic novel ripped up the rule-book for superheroes: sex, murder, no happy endings. Snyder's Watchmen almost does the same for superhero movies. At two hours 40 minutes, it's eight minutes longer than The Dark Knight
. Snyder follows Alan Moore's graphic novel at a safe distance, matching the framings and shots from the comic while remaining very cinematic. Frank Miller, take note. And unlike Christopher Nolan's genre-shaking vigilante epic, Watchmen is dark but not realistic, serious but hyper-stylised. From Nixon's prosthetic nose to the rain-soaked artificial backdrops, Watchmen still feels like a comic-book movie.
Which is probably the only way Snyder could get away with this kind of violence. Watchmen is unquestionably the most brutal comic-book movie ever made: bullets puncture skulls, blood splatters, faces crunch, arms are sliced off with a buzz saw, a man is burned to death with cooking fat, splatty eviscerations leave blood and bones dripping off the ceiling… Fantastic Four
, this ain't. It's theatrical, but Snyder unwinds every bone-splintering blow with copious slo-mo combined with concussive shifts in frame rate.
Truth is, he leans too hard on the slo-mo button – not least in Watchmen's worst scene, a cringy portion of porny sex, bafflingly scored to 'Hallelujah'. But it's a minor dent in the drama. Driven forward by an amazing time-capsule soundtrack
– Nat King Cole, Simon & Garfunkel, Hendrix – Watchmen never loses its propulsion. In fact, for anyone who hasn't read the graphic novel, there's too much here to take in one sitting.
Then again, Moore's novel is dense, detailed and designed to be chewed thoroughly not swallowed whole. And maybe that's why Snyder's adaptation never soaks up the full weight of grim humour and human tragedy in the novel. Only a near-perfect sequence revealing the life, death and rebirth of Dr Manhattan captures a genuinely emotional throb.
But a masterpiece has already found its perfect medium. And like the book, Snyder's Watchmen still demands to be rewatched – and on DVD with yet more footage and the Tales Of The Black Freighter comic-within-a-comic. So do yourself a favour. Before you watch Snyder film the unfilmable, go read the greatest graphic novel ever written. You can thank us later.
IN SHORT
Not another superhero movie. Gripping onto its sex, violence and angst, it's hard to imagine anyone watching the Watchmen as faithfully as Zack Snyder's heartfelt, stylised adap. Uncompromising, uncommercial and unmissable.
RATING: [rating stars="4″]
Certificate: 18
Director: Zack Snyder
Starring: Patrick Wilson, Billy Crudup, Jeffrey Dean Morgan, Jackie Earle Haley, Matthew Goode, Malin Akerman
Screenplay: David Hayter, Alex Tse
Running time: 160 minutes
SEE THIS IF YOU LIKED…
X-Men 2
Superheroes for adults, as Bryan Singer amps up characters over action.
Boogie Nights
Sex and death in PT Anderson's decade-spanning ensemble drama.
Little Children
More sex and death, as Wilson and Haley face up to suburban meltdown.
Read Jonathan's Watchmen reviews on the following sites: