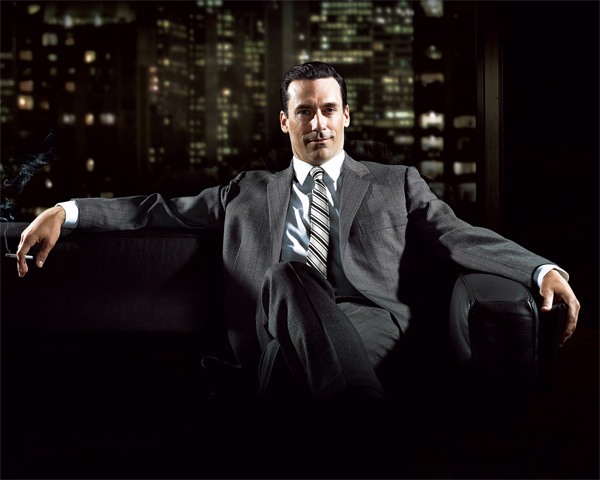 "There's a lot of drinking, a lot of smoking, a lot of steak-eating and unprotected sex. It's Disneyland." If only Mad Men
creator Matt Weiner had written that on the first page of his script. We might not have had to wait seven years for the smartest US TV drama since The Sopranos
.
Instead the title page read, 'Mad Men. A term coined in the late 1950s to describe the advertising executives of Madison avenue. They coined it.' Weiner was not a Mad Man. He was a sitcom writer. Worse than that, he was a sitcom writer for Ted Danson. "I worked on Becker for three years," recalls Weiner. But about a year into it I said, 'You know what, this is not what I want to do when I grow up.'" He was already 35, married to an architect, with three young children.
Before he sat down to write the Mad Men pilot, Weiner sucked up '50s and '60s culture. He read Salinger, Cheever and Kerouac. He studied vintage girl-power bestsellers like Sex And The Single Girl
(inspiration for Sex And The City) and The Feminine Mystique
(helped ignited the women's movement in 1963). He watched movies like Jack Lemmon's bittersweet satire The Apartment and Walter Matthau sexism comedy A Guide for the Married Man. He smoked a lot of cigarettes.
And in 2002, Weiner sent his completed Mad Men pilot as a writing sample to The Sopranos creator David Chase. Bada bing. Chase loved it. Leaning back 50 years to New York 1961, the story zeroes in on the life of Don Draper, the suave creative director of the Sterling Cooper Advertising Agency. Smoking and drinking like rock-stars, he and his slick-suited Brylcreemed execs dream up killer slogans for tobacco companies, backstab each other, jovially harass their secretaries, hook up with their mistresses and placate their lonely housewives. Like Weiner said, it was Disneyland.
"It was what you're always hoping to see," remembers Chase. "It was lively and it had something new to say. Here was someone who had written a story about advertising in the 1960s and was looking at recent American history through that prism." He immediately hired Weiner to work as a writer on his Mafia masterpiece. Now the hottest new writer on HBO's biggest hit, Weiner wasted no time pitching Mad Men to the network. Chase himself submitted the script.
HBO's response? No. Less than no. In a baffling decision that would return to bite them hard, they never even got back to him. Weiner still doesn't like talking about it. Neither does anyone at HBO. "All I can tell you is that it was very disappointing that they did not notice me, because I was part of the family" he admits.
Crushed, Weiner did what anyone would do. He started killing people. He helped suffocate Christopher Moltisanti in an SUV. He shot Bobby Baccalieri in a model-train shop. As a writer and exec producer of The Sopranos, he got paid for it too, inking those episodes and many others during the series' climactic final three seasons.
Meanwhile, Mad Men's pilot script gathered dust. For seven years, neither HBO or Showtime or anyone else ever asked about it. But as The Sopranos was wrapping up its goodbye season, US cable network AMC put out word they were looking for a new original series. They saw Mad Men and snapped it up instantly, handing Weiner a $3 million budget for the pilot, a modest $2.3 million for each episode and two rules for life. "I can't swear and I can't show nudity," says Weiner. Everything else? That was all good.
Smoking, drinking, adultery, sexism, homophobia, anti-Semitism, racism… Mad Men ticks off the '60s seven deadly sins inside its first few minutes. Talk about men behaving badly. "Admen were the rock stars of that era," says Weiner. "Creative, cocky, anti-authority. They made a lot of money and they lived hard. On page six of the script, Don had his fourth drink. Anyone who's seen the show who's been there has said, 'Oh, that's nothing.' It is not an exaggeration that people used to start the second they got in the office." He grins lightly. "Actually, when I was trying to find old advertising guys who were there, to talk to them about it, it was difficult. Because they're dead."
Survivor's testimony came from Della Femina, the former American advertising legend behind Becks beer and Pan Am airlines. Famously, his proposed slogan for the Japanese-owned Panasonic account was, 'From Those Wonderful Folk Who Gave You Pearl Harbor.' "People had bottles in their drawers," recalled the Femina, when quizzed about the show's authenticity. "The bartender would start shaking our martinis as soon as we walked in. Mad Men accurate reflects what went on."
Which, more than anything, including a lot of smoking. At the office. In front of the kids. At the gynaecologists. And looking damn cool doing it. From the very first day's shooting, beautiful veils of smoke drifted through Weiner's sets. Lighters clicked constantly. Smouldering butts stacked up in the ashtrays. "There's something burning but it's herbal cigarettes," admits Weiner, who even banned non-smokers from lighting up in-character. "You don't want actors smoking real cigarettes. I've been on sets where people throw up, they've smoked so much."
"I'd pitched the story of Mad Men to a couple of people and they said, 'There's too much smoking' or 'Don is too unlikable'. And I'm like, 'I write on The Sopranos and I'm watching the most on-paper unlikable person in the world.' Well, guess what? Jim Gandolfini played that person and it made a huge difference." All matinee looks and flinty charisma, 36-year-old TV journeyman John Hamm was cast as leading alpha-male Don Draper in a no-star cast of ace character actors. Chiselled actors and glamorexic actresses didn't get hired. Because no one got implants and collagen shots in 1961. "A lot of these characters don't look like characters you see on TV," says John Slattery, who plays Draper's boss Roger Sterling.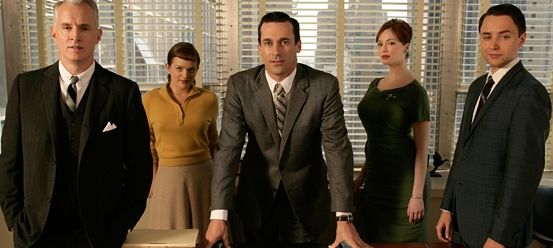 During the shoot, lead-man Hamm was in less danger from a herbal high than Weiner's lovingly designed period sets. "During one scene, they were moving wall panels and they dropped one on my head," remembers Hamm. "Which ended my shooting day. I had seven stitches. It was my first injury of many on this show. I had a broken hand and a dislocated shoulder."
All of which Weiner would consider a small price to pay. The Mad Men creator, it turned out, had a hardcore addiction to realism to rival that of David Simon, creator of Baltimore-set crime epic The Wire. (There must be something in the water in Baltimore. Weiner was born there.) Weiner freaked out over every tiny detail. He freaked everyone else out. "Because men always were shaven during that period, I sometimes had to shave the actors two or three times a day to make sure there was no growth whatsoever," says make-up artist Debbie Zoller. Weiner approved everyone actor, costume, hairstyle and prop. Before each episode, he held a "tone meeting" with the director during which he essentially performed the entire show himself. Just so they understood.
Hiring crew from The Sopranos, Weiner recreated the Rat Pack romance of '60s New York in classic style. Nothing else on TV looked like it. Hitchcock was a massive visual influence (Weiner is a film-school graduate), right from the tumbling Saul Bass credit sequence.  Stacks of Sears catalogs and Better Homes And Gardens magazines from the '50s provided the blueprint for the Mad Men's stylish time-warp.  Bullet bras, fedoras, big skirts, white shirts and neat rows of IBM electric typewriters. "Try not to be overwhelmed by all this technology," says office queen-bee Joan Holloway (Christina Hendricks) as she introduces a naive new employee to her first day at Sterling Cooper. "It looks complicated, but the men who designed it made it simple enough for a woman to use."
This was where Mad Men really kicked: Weiner's brilliant dialogue, jewelled with throwaway zingers. "What do women want?" ponders Draper. "Who cares?" says his baffled boss Sterling. "Have we ever hired any Jews?" he asks Draper. "Not on my watch," say Draper. "You want me to run down to the deli and grab somebody?" Back in 1960, political correctness was knowing how to knot your tie right.
"Were we really that horrible? Yes we were!" grins co-writer Andre Jacquemetton. "Sometimes it's a bit jarring, because we'll write certain things and it's like, 'Oh my god. Are we really writing this line?'" Weiner's core co-writing team consisted of four men and three women. One of them is Jacquemetton's wife. "We know it's a good script when we do our table read and the heads lower, like, five times," she laughs. "I definitely cringe at the sexist things the guys say. The guys cringe too."
If no one cringed, they'd likely hear one of Weiner's favourite phrases barked at them: "That sounds like a TV show." It was their cue to try again. "I've watched a lot of TV in my life and I've really tried to do things that don't lie about human behaviour," says the creator. "You're repelled by it, but also thrilled by it."
In fact, Mad Men's consistently adult, witty drama is more sardonic love-letter than acid satire. Behind the haze of scotch and cigarette smoke, Don Draper's battles in the boardrooms and the bedrooms rapidly shade into a dark, rich, subtle study of masculine crisis. Fascinating inner struggles motor each character – and Season One is loaded with at least two spring-coiled twists. "Mad Men is about conflicting desires in the American male and the people who pay the price for that," explains Weiner. Who are? "Who are the women."
Ironic that, considering who vets Weiner's scripts. That would be Mrs Weiner. When he wrote Mad Men, he didn't just sit down and start typing. He spoke it out loud, every part, line by line. "Every single script goes through my wife," he explains. "She inevitably says, 'What is it about?' We talk about it and I'm always angry when she's talking. I mean, my writers come up with lots of good ideas, but she is really something. If I can see her reaction, I can see what works and what doesn't."
Turned out, everything worked. The terrific ensemble performances. The stylish cinematography. Weiner's glittering writing. Scoring TV ratings of just 900,000 viewers, Mad Men didn't touch The Sopranos' debut season average of 3.5 million. But the all right people were watching. The New York Times and Time magazine both named it the best TV show of the year. At the Golden Globes, Mad Men won Best Television Series and Jon Hamm picked up Best Performance. It was the most most-nominated drama series at the Emmy Awards, winning four of them.
With its second season
due to hit BBC4 this year and Weiner in negotiation over Season Three, Mad Men has bounced from cult surprise to cultural smash inside 12 months. The Simpsons' Halloween episode 'How to Get Ahead in Dead-vertising' sees Homer falling in slo-mo past a number of advertising slogans. Facebook groups ask 'What would Don Draper do?'. Barack Obama took a copy of the Mad Men DVD with him on his campaign trail. But perhaps the most notable fan is HBO co-president Richard Plepler, who took over at the network in June 2007. One month before the debut of the pilot his predecessor turned down. "Mad Men is a magnificent show," he says, wryly. "The only problem with it is it's not on HBO."
Read Jonathan's original article at ShortList.