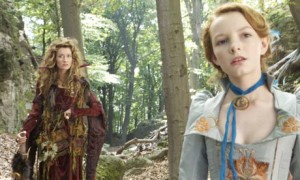 Magic pearls, a black lion, unicorns, bandits, an ancient curse… Easy to see how fantasy novel The Little White Horse
inspired JK Rowling. Harder to figure out why this big-screen adaptation
can't conjure any sense of magic. The Golden Compass star Dakota Blue Richards plays a 13-year-old orphan who moves into the crumbling home of her grumpy uncle (Ioan Gruffudd), only to discover it's her destiny to stop the moon crashes into the Earth. Sounds good. Shame it's directed like a TV drama and acted like a school play. Tim Curry as a sinister king? It's ham for supper, kids.
RATING: [rating stars="2″]
Read the original article at TheLondonPaper.