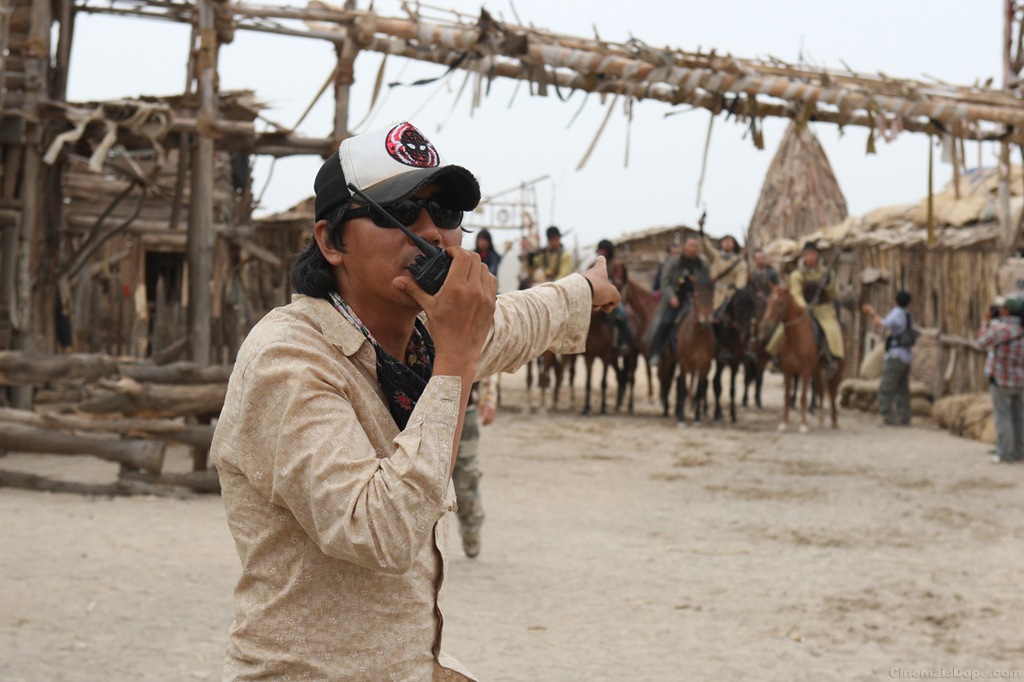 Swapping Spaghetti for Noodles, Korean director Kim Ji-woon talks crazy saddle-saga The Good, The Bad And The Weird…
How big an influence was Sergio Leone? What are your other big influences?
I like Italian Westerns in general but it's clear that Sergio Leone left a strong impression on me. I was inspired not only by Westerns but by films like Mad Max: Road Warrior, Ben-Hur, Bullitt, The Magnificent Seven, The Wild Bunch and Blade Runner. I made this film imagining those films.
What special twist did you want to bring to the Western genre?
I wanted to add a modern touch to the speculative, monotonous and slow moods, which were the typical moods of western films. I tried to show a variety of action scenes with spectacles, and in between the actions scenes I intended to put some humour coming from characters. On the base of Western genre conventions such as revenge, a fierce duel to decide who's the best and breathtaking tension just before the guns are drawn out, I heaped up the barest sides of human beings, like desire and obsession. Characters collide in that sense. I intended to make an amusing and enjoyable film even for a young generation today. In doing so, I think spectacular, dynamic action scenes and speed worked.
A Tale Of Two Sisters was an incredibly restrained film, but A Bittersweet Life and this film are wild and explosive. Which style do you enjoy more and why?
Both sides co-exist inside myself and I love each cinematic colour without preference. I'm not sure but it might be my ideal to make a film converging two conflicting feeling and moods. Or it can also be said that I want to make a film which incorporates extremely different cinematic tones in one film. To name such films among last year's titles, No Country for Old Men by the Coen brothers and Zodiac by David Fincher can be cited. I also love Robert Bresson films, Aki Kaurismäki films, Happiness by Agnès Varda and Peter Jackson's Heavenly Creatures. These films are very detailed in expression but explode in the end with unexpected impact. All these films may have different tones and moods, but all of them shook my heart.
Which scene in the film are you most proud of?
The chase across the desert in the climactic scenes. The scene has the speed, spectacle and excitement I wanted and intended.
Which was the toughest scene to shoot?
That one! Looking back, it was a crazy thing to do. I can't believe now that all of us thought to shoot such big scale chase and action scenes under the dazzling sun, with the temperature going up to 44C with actors in winter clothing. Though the scenes may look rough, we did elaborate and took special care to the very last detail. It wasn't a rational or normal thing to do to shoot such scenes under such conditions. It surely does not have the smooth and refined look of a Hollywood blockbuster, but such madness added real feeling and that's why the film is exciting and alive.
Which is your favourite character: The Good, The Bad or The Weird?
Of course, the most lovely character is The Weird. But I love The Bad' s delicate performance, expressing his inside feelings in a subtle way, and The Good's elegant visual acting as well. All of them are very precious and loveable characters for me.
The film has a great sense of black humour. Do you think Korean humour is different to Western humour? Does it translate?
When I put humour into films, I usually make it happen in a very cinematic way. In this film, I tried to avoid using a trendy or modern Korean humour code. After screenings, I got the impression that the Western audiences understood most of the humour I intended. Even though I didn't think of a region or language specific humour when making this film, there definitely were the comic scenes which made Koreans laugh a lot while the Western audiences showed no apparent response. The long dialogue scenes between The Good and The Weird set in an outdoor camping yard is an example. It was one of the loveliest scenes to the Korean audience but it meant nothing more than any other episode to the Western audiences. I know there are many Korean comedy films that couldn't make the foreign audiences laugh despite the local audience's hot response.
Is it true that the film went over schedule and over budget? Can you explain?
The schedule went over one-and-a-half months from what was originally planned. There were two reasons for the delay. One, there was no available data we could collect about the actual shooting situation in China three months prior to the China shoot. For instance, roads should have been built to make the picture car run and shoot at the same speed as the horses beforehand, and we had to restore it after shooting. We didn't have detailed information about Chinese crews and we had to change major Chinese staff just before location shooting started. The Chain of unexpected, unprecedented and unwanted happenings never ceased. I didn't know or expect that such hardships would be there for us to shoot scenes like the climactic chase scene. Secondly, I must admit we had a longing to make near-to-perfection scenes and that made me and my staff want something more and more in the course of filming. This film represents the cinematic desire not only by me but by all staff. We just wanted to go to somewhere no other Korean film had gone before.
How did you find writing the script for US horror The Uninvited? What can we expect?
I was never asked to write the script for The Uninvited, so I can't answer about it if you mean how I felt about writing a Hollywood version of the script. But regarding The Uninvited itself, I think the overall mood will be much different from A Tale of Two Sisters. That was a horror film but it had a sort of sadness and subtle feeling from within. It was a film to be remembered as uniquely colourful, feminine and beautiful. I don't think you can expect those moods and tones from a Hollywood remake. My guess is that the film might be a well made thriller/horror film which is made in the Hollywood way. Hollywood doesn't like unexplainable things; therefore they will explain everything and interpret it as well. That's the way they feel comfortable with things.
Read the original article at Little White Lies.