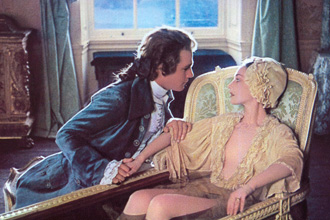 Dubbed "Borey Lyndon" by some mugs on its release in the same year that Jaws
and Taxi Driver
rocked cinemas, Stanley Kubrick's period-piece tragedy now looks almost as brutal as those two '70s barnstormers. Don't go looking for a human pulse in this adap
of William Makepeace Thackery's novel
: Kubrick's God's-eye cynicism burns like black ice. Plotting the rise and fall of the shallow 18th-century Irish rogue (Hollywood lunk Ryan O'Neal) who sets out for wealth and power, it pulls a slow reverse-zoom through three hours of duels, war, gambling, aristocracy, amputation and bitter cynicism. But the cruellest movie of Kubrick's career is also one of the most breathtakingly beautiful ever made. Watching it is like falling into a living oil painting – the past has rarely been reanimated with such vibrancy and detail. Time can't move quick enough until this one hits Blu-ray.
RATING: [rating stars="3″]
Read Jonathan's original article at Total Film.