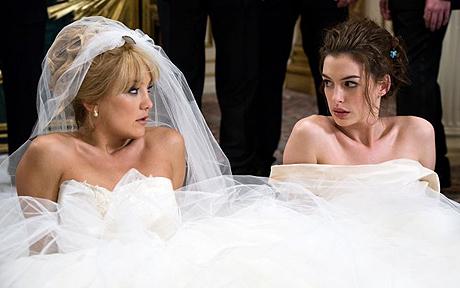 Screaming, crying, panic, terror. Bride Wars
isn't a comedy. It's a horror movie for girls. Liv (Kate Hudson) and Emma (Anne Hathaway) are lifelong BFFs and brides-to-be… until a mix-up books their dream weddings at the same venue on the same date. Cue marry hell, as both try to sabotage the other's Big Day. Liv gives Emma an orange spray-tan. Emma puts blue streaks in Liv's hair dye. And so on. Hudson and Hathaway give this flimsy confection some life, but it needed less icing and more acid. Swallow it as a cautionary nod towards the blunt head trauma of wedding planning.
RATING: [rating stars="2″]

Read the original article at TheLondonPaper.