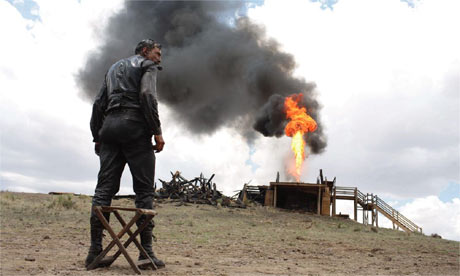 Pudding. Love. Adam Sandler. Three things you won't find in director Paul Thomas Anderson's first film since 2002's Punch-Drunk Love. Shuddering with biblical sound and fury, clocking in at nearly three hours and centred by a seismic performance from Daniel Day-Lewis, There Will Be Blood
is something else. Something else entirely.
Opening with a deafening sonic pulse from Radiohead guitarist Jonny Greenwood's phenomenal score, the film's first captivating 15 minutes unwind without a word. It's 1898 and Daniel Plainview (Day-Lewis) digs for silver, alone, in the darkness. By 1911, he's an oil man and hellbent on extracting every drop of black gold from the parched Californian wasteland.
Loosely mined from Upton Sinclair's 1927 novel Oil!
, this engulfing American nightmare bores a hole through the first three decades of the 20th century via a ferocious theatrical spectacle. Eyes glittering relentlessly between his wide-brimmed hat and curling moustache, Day-Lewis unleashes a performance of monstrous dimensions – drifting from obsession into madness with astonishing intensity. "I hate most people," he admits in his annunciated, menacing accent. "I want to earn enough money so I can get away from everyone."
Extraordinary, then, to see Little Miss Sunshine's Paul Dano hold the screen with him as Plainview's nemesis Eli Sunday – a young, charismatic evangelist, as megalomaniac as Plainview, who builds a congregation sparks a rivalry of burning hatred. But these aren't men, these are walking metaphors. Anderson's Big Film looks to winch us down into the dark heart of American itself – a self-destructive story of oil, greed, religion, money and mythology.
In fact, you can feel Anderson straining to make his masterpiece. In this gigantic vision, only quiet, awkward moments of tenderness between Plainview and his young son HW (an outstanding Dillon Freasier) touch the heart. His past films – Vegas drama Hard Eight, disco-porn showstopper Boogie Nights, frog-pouring epic Magnolia and Sandler rom-com Punch-Drunk Love – all glowed with a delicate, audacious belief in human hope. But here these are only flickers – tiny, beautiful stitches on a dark canvas devoted to the director's unstoppable ambition and virtuoso operatics.
And yet… what ambition, what operatics. Lensed with awesome power by cinematographer Robert Elswit, the vast, barren landscape dwarfs the men trying to suck the wealth from under it. The images are extraordinary: a huge oil well bursting out of control, jetting into flame and shutting out the evening sky with a apocalyptic blanket of black smoke.
At last, of course, there will be blood. With Plainview's lonely descent into the darkness complete, the electrifying face-offs with his now-grown son and Eli blaze over the top and down the over side. Anderson's film geysers with jaw-dropping perversity. The closing words "There Will Be Blood" crash on to the screen in giant Gothic letters. Brahms fills the soundtrack
. And Anderson's movie ends ringing in your ears.
RATING: [rating stars="5″]
Grander, stranger and more fearfully mesmerising than anything you've seen at the cinema for a long, long time.
Read the original article at MSN Movies.