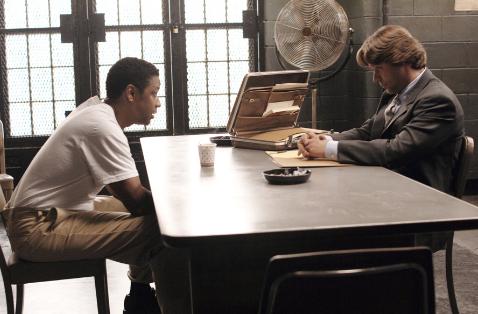 As biopic movie-meat, this extraordinary true story aches with subtext: '70s Harlem druglord, Frank Lucas built an empire via killer market force – smuggling low-cost, high-impact heroin right through the fog of the Vietnam war. It's worth epic treatment, all 157 minutes of it. And, right from the title, Ridley Scott guns for nothing less than the twenty-first century's first great crime saga: the American dream re-cut as a New York dope opera.
Doesn't it show. More hyper-aware than hyper-real, Scott's meticulous aesthetics can't touch the urban texture and deep focus of The French Connection
, The Godfather
, Serpico
and Prince Of The City – all looming heavily in intertextual nods. What's more, writer Steven Zaillian strains to splice a Scarface
rise and fall with a Heat
-styled crisscross character-study, as untouchable cop Richie Roberts' (Crowe, buttoned into a low-key role) toils to bring down Lucas (Washington) and the corrupt NYPD narcs. But for all the fractured mirroring, this is Lucas' story – and Washington's movie. He's immense: centring every scene with tractor-beam charisma, that dangerous, easy charm hovering between a luxury smile or blazing violence.
Like much of his oeuvre, Scott's scaled-up movie is bigger than life – and lesser for it. But while never digging deeply or darkly enough to match its own grand vision of itself, slick technique drives the story forward with pace and style. The finish rushes in: a brilliantly constructed police take-down, a magnetic collision between two Oscar-winning alpha males and a gift-wrapped coda which confirms that, in Hollywood, mythology always trumps morality.
RATING: [rating stars="3″]
Read the original article at Time Out.