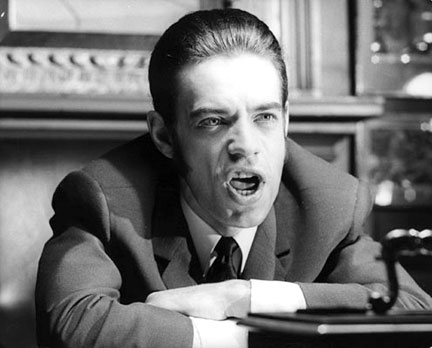 Birthed in the genius/mentalist brainpan of virtuoso artist Donald Cammell, Performance
was pitched to Warner Bros as the smash-hit cocktail of cinema's two hottest genres: pop-star vehicle and Swinging London flick. With Rolling Stones demi-god Mick Jagger co-directed by brilliant cinematographer Nicolas Roeg and libertine intellectual Cammell, this would be the first Swinging London flick by swinging Londoners. When one exec's wife began vomiting at Performance's test-screening, one thing became clear: A Hard Day's Night, this was not.
Swaggering with naked violence from the off, Cammell's script sees sadistic enforcer Chas (James Fox stepping in for Marlon Brando) on the run from his Mob employers, holing in the Notting Hill hideout of Turner (Jagger), a reclusive rock star who's lost his mojo. But crime shocker rapidly whirlpools into fascinating psychosexual inner-odyssey. Clocking Chas violent potency as the key to regaining his daemon, Turner begins to peel apart the gangster with disturbing, erotic mindgames. And as Chas' brutal Mob bosses slowly track down their boy, the two men swap women, drugs and finally identities…
Shot in 1968 when London's swing was at full-tilt (Kray twins, Beatles, Rolling Stones, Chelsea set), Performance hit the capital of cinema cool (see The Servant, Repulsion and Blow-Up) at a time when the medium itself was realising it could do just about anything (Week End, Point Blank, 2001). Cammell and Roeg duly hit full auteurmatic.
Nico provides the technical brilliance, switching angles, lenses, filters and stock to astonishing effect. Fusing with editor Frank Mazzola's amazing free-jazz montage and Jack Nietzsche's revolutionary synth-score, Jagger's 'Memo From Turner' was the modern music video in genesis. But it was Cammell, rumoured to be the god-son of notorious occultist Aleister Crowley, who marshalled the intellectual, stylistic and sexual alchemy in which constant 'mergers' become cinematic black-magic. Pop and crime, class and sex, violence and society, vice and versa… Turner's flat becomes a psychic headspace (""Nothing is true. Everything is permitted"), dissolving the layers between image and reality until they clash like cymbals. It's a hallucinogenic deconstruction of identity writhing with sex, substances, ultraviolence and rock'n'roll… on both sides of the camera. With Cammell and Roeg crawling under the sheets (literally) with startling intimacy, "trims" from Jagger's threesomes with Anita Pallenberg (Keith Richards' enigmatic, beautiful girlfriend) and Michèle Breton (Donald's androgynous French fancy) in bath tub and bedroom apparently won first prize at a Dutch porn festival. Rumours of the drug-blurred, hedonistic shoot are, according to Jagger, "so good I can't deny them."
At his power peak, the rubber-lipped Stones star was a living social force: nothing less than a symbolic threat to civilisation itself. Performance captures him as it time-capsules London's strange, dark world like never before. It was near-mythic criminal raconteur David Litvinoff, credited as "dialogue consultant and technical advisor", who opened the film's portal between the naked power of the Krays and Stones. He helped the upper-class James Fox swab up Chas' brutality with South London's underworld hardcore – and provided Cammell with support cast bristling with the unsettling, salty bite of the real.
Reality (and fantasy), madness (and sanity), death (and life), vice (and versa), finally consume each other in the extraordinary end sequence. Chas' bullet enters Turner's head, shatters the looking glass and escapes into the heavens. The seismic shock drained something from everyone: Fox, Britain's most prodigious rising star, turned to God and quit acting for more than a decade. Jagger's artistic fade-out soon began. Cammell managed just three films in the next three decades before – naturally – sending a bullet through his own brain in 1996.
There are still four Performances circulating – and Mazzola claims footage chopped by Warners is sitting in the studio's salt-mine vault in Kansas. Sadly, no commentary from Mazzola, Fox, Jagger or anyone else here, let alone a full restoration. Running 105 mins, the DVD is nearly three minutes shorter than Cammell and Mazzola's original version. But while the wait for a fabled director's cut goes on, Performance continues to pulse hot with power and energy and madness. Thrillingly, infinitely (un)analysable – Cammell even referred to a "secret movie" cut subliminally into edit – it's untoppled as the most startling cult film of the '60s and the most astonishing, unique British film of all time. Nearly 40 years on, there's still been nothing like it.
RATING: [rating stars="5″]
EXTRAS: [rating stars="1″]
Read the original article at Total Film.