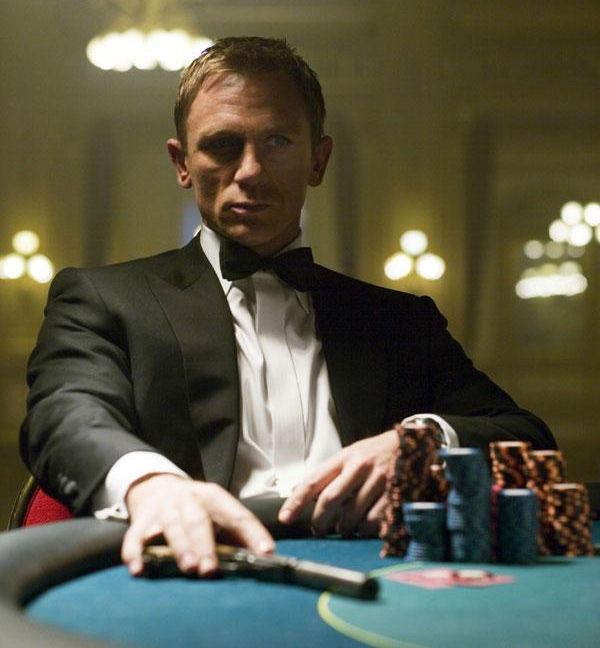 A new Bond. A new Bond film. A new beginning. Daniel Craig raises the stakes with Casino Royale. Now do pay attention…
The studio didn't want him. Too rough, they said. Too cocky. Too old to be Bond. Even the writer wanted someone smoother. Started openly referring to him as "that labourer". But the Broccoli family, Bond's all-powerful producers, were certain that this was the actor, this was Fleming's Bond, "instead of all the mincing poofs we've had apply for the job." Of course, it didn't help that this guy didn't seem to give a damn about the role. Hell, he even refused a screentest.
Cubby Broccoli, though, stuck to his PPK. And former Mr Universe contestant Sean Connery finally took his screentest to become the first ever Bond, James Bond. Four decades on, like her father had with Connery, Barbara Broccoli knew what she wanted. Thirty-seven-year-old Daniel Craig was the only 007 she wanted. Sony head honcho Amy Pascal was, understandably, sceptical as hell. Who was this guy? What the wrong with Pierce? And – scariest by far – what was all this talk of Casino Royale
"rebooting" Bond? For a year and a half, the studio trawled more than 200 potential actors from three continents. Hugh Jackman, Eric Bana and Clive Owen were rumoured (but never approached). Count Of Monte Cristo
thesp Henry Cavill screentested impressively but, at just 22, was thought too young. Four-time-Bond Pierce Brosnan, still clinging to the role, and happy to keep stirring the media rumpus. "Sony are pulling their hair out over it, apparently," he said in one of many interviews that year. "I was in their offices just a few weeks ago pitching Thomas Crown 2. They said, 'Come back!' I said, 'It's not up to me, guys…'
Meanwhile, Broccoli kept calling Craig. Craig kept stalling. "When they came to me, it was kind of like, 'Are you fucking kidding me?'" remembers Craig with a grin, sat with Total Film in London's Dorchester hotel. "Barbara was badgering me, but I still hadn't seen a script. It was almost slightly annoying to finally read it and go, 'Oh, Jesus! It's good!' A month later, the deal was done. Apart from one last phone call… "I spoke to Pierce," says Craig. "I needed to. I said, 'Look, you know, I have been approached.' He just said, 'Go for it.'
BILLION DOLLAR GAMBLE
"The only good thing about this picture," shrugged one Dr No
exec back in 1962, "is that we can only lose $800,000." Now, after four decades, 20 films, four Bonds and more than a billion in box-office revenue onward, the stakes simply couldn't be higher. With Craig and Casino Royale, Broccoli and co-producer Michael G Wilson are going all in: a back-to-basics reinvention of the most successful series in cinema history. But it's a monster dice-roll that's been rattling for years. In the late '90s, market research showed Bond movies to have the oldest demographic of any action-adventure series. But with Bond videogames driving a younger audience to the franchise, no one wanted to disappoint. Result? Die Another Day
, whose $430 million global box-office made it the highest-grossing film in the franchise's history. And quite probably one of the worst. Lee Tamahori's blockbuster seemed more videogame than movie, most disastrously as Bond water-skiied through his first ever fully CG stunt. A year after 9/11, it swerved the franchise well clear of real-world events – and reality itself. "While you were away, the world changed," notes one character. "Not for me," replies Bond. It provided a stark contrast to the GoldenEye teaser that first introed Pierce Brosnan to the role in 1995: "It's a new world. With new enemies. And new threats. But you can still depend on one man." A decade later, the world is caught in the choke-hold of terrorist threat. Meanwhile, screen secret-agent franchises have been pastiched by Austin Powers
, bulked up by xXx
, energised by Mission: Impossible
and finally dragged into a paranoid new century by thrilling, fractured anti-heroes Jason Bourne and Jack Bauer. The world had changed. And Bond was being left behind.
"The Bourne films are fantastic," admits Broccoli to Total Film. "Very much like the early Bonds in a way. In the last decade, the world has become more and more dangerous. These films reflect the times they're inhabiting. And if you don't change, you die." Wilson had been waiting to take 007 back to his very first mission since A View To A Kill
and Moore's retirement. "After Die Another Day, we'd have a guaranteed winner if we just did the same thing again," he explains. "But we would've lost what I think is important to this series. Here was chance to reinvent the series. We were all on the same page. I was desperately afraid. And Barbara was desperately afraid. But we needed to re-energize ourselves." Call it Bond Begins. And like Christian Bale's 21st-century Dark Knight
, Daniel Craig steps into an expensive suit that hangs heavy on its owner. "I'm wearing obscene amounts of fucking money," he nods. "You've got to put it on and get it right. Christian did it and got it right. He went, 'That's Batman.' And that's really the key here." He frowns for second. "Not that they'll think I'm Batman. That'd be the wrong fucker!"
With now Sony persuaded that Craig definitely was the right fucker, Casino Royale looked the perfect fit. Fleming's first ever book
, Bond's genesis story, the only one yet to be officially adapted for the big screen and, with a plot pivoting on high-stakes gambling, scarily apt for the massively risky project. Filmed twice before a one-hour US TV special in 1954 and a misjudged spoof
in 1967, Fleming's "thriller to end all thrillers" sees Bond battling terrorist banker Le Chiffre at a game of high-stakes poker in Montenegro's Le Casino Royale. Win: he destroys Le Chiffre's organisation. Lose: Bond's stake will have indirectly funded a new reign of global terror.
Sex? Check. Espionage? Check? Violence? Check. Gadgets? Forget 'em. Chiselled by his wartime employment as a Reuters journalist, Fleming pithy prose featured nothing of the sort. Goodbye invisible cars. Goodbye John Cleese. Welcome back GoldenEye
director Martin Campbell, signed to break in his second Bond. Along with a lean budget of $100 million and an even tighter schedule, Campbell received some helpful dos-and-don'ts from Wilson ("Do make it exciting, but reality-based") and Broccoli ("Don't make a bad film"). Craig, though, more than anyone, is adamant that Bond 21 is still Bond. "Everything is there," he assures. "The Aston Martin DBS is just fucking phenomenal – I'm ragging the arse off it. The girls are all there." And the gags? "We've got the gags. Very funny gags," he says, seriously. "That's Bond and I'm as big a fan as anyone. Believe me, I know people are assuming that we're fucking with it. But we're not fucking with it."
And who, exactly, is going to fuck with Craig? Especially after a pre-credit opener that sees a snake-veined 007 earn his licence to kill with a savage hand-to-hand beating and a bullet through the brain. "It gets better than that!" exclaims Craig, rubbing his hands together. "If he hasn't got a gun, you have to look around and think, 'Well, that fucking table looks good!' I mean, that's the reality of it. Now, it's still Bond so it won't be wuxia fighting going on here. But I wanted it as gritty and as real as possible. You know, chokeholds, elbows and fucking everything. It's bloody. It's bloody as hell. I had black eyes most of the way through the movie. But that's what I wanted: to show that he gets knocked back – that's reality. He gets fucked up, he gets up and carries on."
"Craig's a tough son-of-a-bitch in the way that Connery was," says director Campbell, talking to us having just completed his final edit. "Not to say we're doing Hamlet, but having an actor of his ability makes a huge difference. Of all the books, Casino Royale formulates the character of Bond. When Bond's forced to really work at killing someone, it disturbs him. I think he probably encapsulates what Fleming was talking about with Bond."
"As cool about death as a surgeon." That was Fleming's description. Campbell is promising Royale's action is still explosive, still white-hot. Example? The film's first major set-piece scene in the Bahamas, where Bond hunts down terrorist bomber Molloka (Sebastian Foucon) in a spectacular free-running chase, crashing through scrub-land, leaping between 150ft cranes and culminating in Bond literally bulldozing through a building site to bring down his spring-heeled foe. Wait for the finale, though, says Campbell – a race against time set in a sinking Venetian mansion. "Most of my films end with a fucking big explosion," chuckles the director. "But Casino Royale's ending is different. In fact, I would go so far as to say it's one of the best endings ever in a Bond film."
SEX AND VIOLENCE
Fucking big explosions, fast cars, loose women and hot lead. The last time Craig came close to this kind of blockbusting was Tomb Raider
. He hated it. It was far away from the Liverpool Everyman, where the young Craig got his first taste of acting backstage after as his set-designer mum introduced him to the likes of Julie Walters and Bernard Hill. Since graduating from the London Guildhall School of Music and Drama (a year above Ewan McGregor), Brit cinema's blue-eyed boy rapidly made a name for himself in 'difficult' roles. And, rather fittingly, he brings to Her Majesty's favourite secret agent the pungent scent of death (Layer Cake
, Road To Perdition
, Munich
) and sex (wrapped round Gwynnie in Sylvia
; bedding 68-year-old Anne Reid in The Mother
).
Reid seemed just about the only actresses not in contention to play Vesper Lynd, the beautiful treasure officer assigned to keep an eye on Bond's purse strings. There were rumours (Angelina Jolie, Naomi Watts, Charlize Theron). And screentesters (Thandie Newton, Rose Byrne, Cecile De France). And there was Eva Green. Audiences first saw Green – and saw quite a lot of her – in explicit indie drama The Dreamers
, after which director Bernardo Bertolucci famously described her as "so beautiful it's indecent." All that's required for a Bond girl, surely? Set up to be laid flat. "I know, I'm the Bond girl, I just have to have boobs," she smiles lazily, when Total Film sits down with her. "I had reservations. Then I read Paul Haggis' script." More than the explosions and fist-fights, Casino Royale's action is anchored in the emotional pyrotechnics of love, betrayal and character-shaping emotion as Vesper unlocks the soft-centre inside Bond's… "Cold-hearted arsehole?" she suggests. "She thinks he's a cold-hearted bastard, but then you see his human side. It's very emotional." And the sex? "Off screen." Sensing Total Film's disappoint, Green laughs. "Hmm, you mean maybe we should do some porn or something? Yeah, sure…"
Sex, in fact, is a sore point. Quite literally, when Bond finds himself at mercy of Mads Mikkelson's scar-eyed villain Le Chiffre in Casino Royale's infamous torture scene. Mikkelson, the Danish megastar of the violent Pusher trilogy, takes on a Bond villain based by Fleming on the occulist Aleister Crowley. And it's a Bond villain with a singularly modern motivation. "He's just like everybody else in the world," explains Mikkelson. "He's trying to get rich. And that makes him a far more dangerous villain." As for that torture scene… "I'm trying to win my life back and he's trying to take it. So I have a little word with him."
Craig, predictably, is rather less coy. "I get my bollocks bashed," he says. "Le Chiffre gets a piece of fucking rope which they tie up boats with. And basically, Bond's on the fucking life-support machine. He's nearly dead." Nearly dead? Just from having his balls bashed? Craig rocks back in his seat with laughter. "Oh well, yeah, okay! 'Just from having his balls bashed?' Where did you grow up?! South East fucking London! Fuckin' bash 'em! I don't fuckin' care! Look, I've just rolled the Aston Martin eight times, so I'm not in a great way." And to be fair to Craig, shooting was made slightly trickier thanks to Mikkelson's lurid contact-lense. "Yeah, I had a real big one that covered the whole eyeball," he adds. "The only problem was I had a hard tie judging distance. So yeah, I'm missed the chair a couple of times. It was a kind of brutal scene for Daniel…"
Craig, for certain, has suffered. Pounded at the gym. Pasted on the set. And, as the first 007 of the online age, coming home to find Bond-bashing becoming a web-sport. Too old. Not pretty enough. Can't drive. Too bland. Too blond. Craig sighs. "When I accepted the job, I understood there would be consequences," he shrugs. "You go mad if you believe any of it." Question is, does anyone know what Bond actually looks like? On the cover of Casino Royale's first UK paperback in 1955, he was based on a photo of Ocean's Eleven
actor Richard Conte. Fleming always said he looked like Hoagy Carmichael. Certainly, those "cold and ruthless eyes" that sparkle from the first few pages of Casino Royale belong to Craig. Surely, though, said fans, Bond could not be blond… "Obviously!" laughs Craig. "Jesus Christ, how else is he going to be undercover?! I said "Let's cut it short, let's not make it a coif issue! I scrub up, you know. Apart from when I wear a T-shirt covered in shit."
In any case, there's now turning back. "I don't think any role changes a man quite so much as Bond," Connery once rued. "It's a cross, a privilege, a joke, a challenge. And as bloody intrusive as a nightmare." Craig knows this. "Now I understand what Pierce said on the phone: there's nothing you can say prepare someone for this. Everything you think it will be, expand it by a factor of 10. I've basically done seven days a week for six months now and I'm on my fucking knees. But very fucking happily on my knees!" But before Bond 22 (Broccoli: "It's an original story, continuing part of this film"), the actor has already made moves to retain his chameleon persona and continue – just as Brosnan did – to splice his MI6 career with typically 'difficult' roles. Sci-fi thriller The Invasion
, with Nicole Kidman, is currently in post-production. And even more tantalisingly, the prospect of seeing Bond as gay killer Perry White in Copote biopic Infamous
. "At the moment, I can't think about it," he grins wearily. "Yes, I could fail miserably, but maybe I can make the franchise last another 30 years as opposed to another three. Other than that, gay killers are not the next career goal…"
Publication: Total Film